As the industry adopts new formats, VR/AR, HDR, AI/ML and more, HP's workstations are ready.
HP came to NAB with good friends Intel to show off their new workstations, which just happened to be perfect for video content creation, VFX, and other memory intensive jobs. The broadcast and content creation industry is now squarely in the middle of working with demanding 4K workflows and negotiating the challenges of creating HDR content and 8K is clearly on the horizon.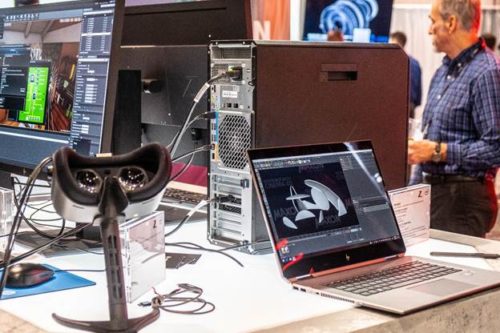 Intel has just rolled out its newest, Cascade Lake lineup of processors and also its Optane DC memory, which combines the speed of flash (more or less) with the persistence and stability characteristic of hard drives. Optane memory enables large amounts of memory to be placed closer to the CPU improving the speed of workflows by decreasing the amount of times the CPU has to go out to memory to retrieve data. The arrival of Optane memory is enabling realtime workflows, say Intel and HP. In addition, Intel has built-in acceleration for AI and machine learning, another important aspect of future proofing.
HP is hot out of the blocks with the first new workstations built with the new Xeon processors, Optane memory, and they've added their own secret sauce with RGS, remote graphics software, that's built into with all HP Z workstations. RGS enables collaboration and access to remote workstations.
The HP Z6 G4 workstation is a dual machine with up to 48 processor cores and 384 GB of memory. The Z8 G4 is also a dual processor machine with up to 56 processor cores and up to 3TB of memory. Customers have a choice of Nvidia and AMD graphics.
Certified for serious software like ANSYS, Autodesk Flame and DaVinci Resolve, creators can ideate and iterate more to deliver better work in less time. With 24 memory slots supporting the Z8 G4's high-speed memory, developers can easily handle massive data sets. Featuring a modern and sophisticated design, the Z8 G4 offers a choice of 1125 W, 1450 W and 1700 W and 90% efficient power supplies, firing up maximum levels of processing, memory, graphics, storage, and I/O configurability.
But HP VP Carol Hess says, it's not all about the hardware. Customers and ISVs are coming to expect more from workstation vendors including customized software. This is an area where the leading OEMs can differentiate themselves. This year, HP announced partnerships with Avid, Red Digital Cinema, and Nvidia.
Avid has revamped its flagship Media Composer and its media management software, Media Central. The company is working with HP to take advantage of Remote Graphics Software for its users who collaborate and also work out in the field. The company is currently testing RGS with Media Composer and Cloud VM. HP was demoing the technology at their booth at NAB.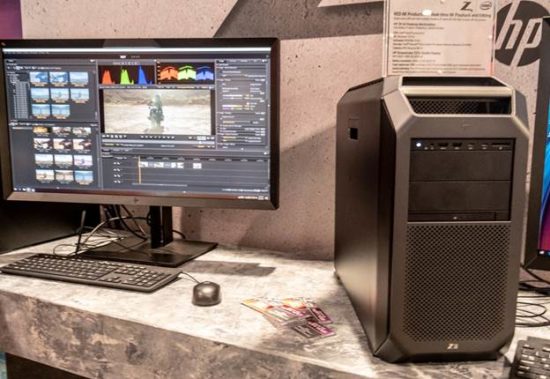 Red, as it won't at all surprise you, is pushing the 8K envelope. The company is working with HP and Nvidia to update its Redcine-X Pro software. At NAB, Red announced an SDK to allow third parties to enable software to offload Redcode RAW decoding and debayering to an Nvidia GPU. As a result, says HP, a single-CPU Hz4 workstation with an Nvidia Quadro TRX 6000 GPU is capable of realtime workflows of 8K Redcode RAW (8192 × 4320) including playback, editing, and color grading.
What do we think?
It's a big workstation year. There's no escaping the advance of formats from 4K to 8K; Avid even said it is supporting 16K just in case anyone was worrying that the pace of pixels was about to slow down. The makers of video editing software have all revamped their software to keep pace and also to make editing faster and easier for output to all everywhere and anywhere. The advent of IP is also forcing upgrades and major shifts.
Finally, we can't forget the huge interest that exists for AI, machine learning, security, and data mining. Not everyone is incorporating advanced workloads but just about everyone is worrying about it. Likewise, not everyone is producing 8K but people shopping for new workstations are looking for equipment that will take them, see them through the major transitions that are coming and the opportunities presented by powerful software and hardware combinations.