Adventures in 3D: emerging tools.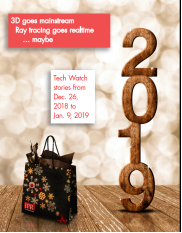 It's been a while, but the cover for our New Year's issue was created using Dimension, Adobe's tool which enables users to combine 3D models with 2D backgrounds to create a new artwork. We didn't do anything really special, put paper bag on the foreground, created a texture for with Adobe's Capture app, added the JPR logo as a decal and boom, done. This is how Dimension is easiest to use and Adobe's developers designed it with the idea that it could be used for prototyping marketing materials as well as extending 3D capabilities to a broad range of people.
As a result, Adobe has further expanded the use of 3D to its customer base. Adobe has been gradually, and somewhat quirkily, been adding 3D features throughout its content creation tools for over a decade, but with Dimension and Project Aero, a related tool enabling Augmented Reality content creation, Adobe has made 3D an integrated part of its workflow. A look through the Dimension section of Behance shows that people are grabbing Dimension and twisting it to their own creative ends.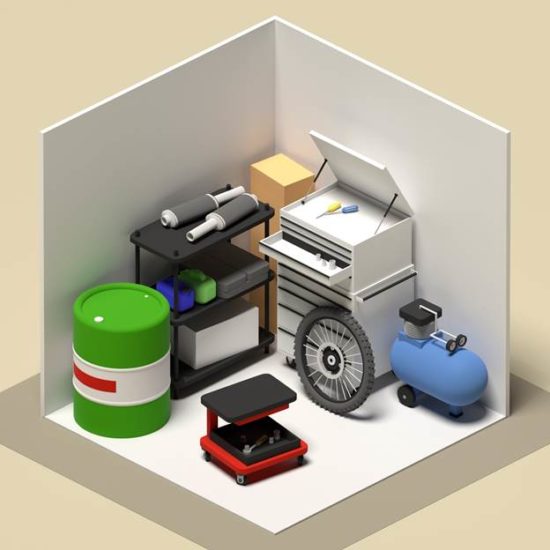 Adobe senior director Simon Williams, strategic relations for Adobe's enterprise businesses says Dimension has been adopted by several large companies because it allows art directors and marketing people to develop prototypes quickly without having to send concepts off to 3D modelers and endure the added wait time. More important the ability to keep the work in house and to iterate quickly has saved the company tens of thousands of dollars per product.
There have been similar products on the engineering side that enable engineers and designers to quickly create a rendered image of their work using photographic backgrounds or 3D environments. Autodesk had an early entrant called Showcase, a realtime rendering product that let users bring their models into the application, create global illumination from the scene and render. Bunkspeed appeared in 2008 using technology developed by Luxion under the direction of Henrik Wann Jensen. That relationship went south, and Luxion introduced their own product, Keyshot. Bunkspeed regrouped building a new product on Nvidia's iRay technology.
Luxology entered the field via partnerships with SolidWorks and Bentley Systems to create integrated renderers in 2008.
Various things happened. Autodesk abandoned Showcase, Dassault acquired Bunkspeed and offers the technology to SolidWorks customers as Visualize. Keyshot soldiers on as an easy-to-use professional visualization tool that sells for $1000. It is primarily for CAD users, and animation as well as rendering. Luxology has been acquired by the Foundry but the PhotoView renderer developed for SolidWorks by Luxology is still available.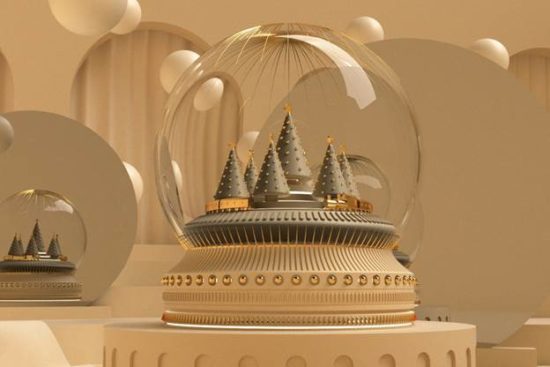 Dimension breaks with that history. True to Adobe's mission, Dimension was built from the ground up for creatives, for the people who rely on Photoshop and Illustrator to get their jobs done.
Filling an obvious need, Dimension is changing 3D content creation for people. Unlike the tools designed for design and engineering, it's a low-cost option for people who already subscribe to the full Adobe Creative Cloud subscription and it opens up 3D visualization to creatives who have been working in 2D mediums. However, the actual work that is appearing on the Behance portfolio site demonstrates that people with 3D skills are also putting Dimension to work. Artists are approaching Dimension with their own ways of combining 2D and 3D.
It's a welcome evolution. Dimension's strength is in its ability to use basic 3D models with a 2D environment be able to render it fast, and create a work with a professional look. Adobe provides a wealth of 3D models that users can combine in a scene.  Originally designed for product marketing, the first models have been bottles, boxes, cans, items that are standard sizes and are then printed; think of soda bottles can cans, packaging, paper cups, etc. The developers of Dimension have managed to keep it simple so that artists can play around with content and try out different ideas.
For instance, Dimension doesn't have a lot of options for lighting. Instead, basic lighting is already set up and can be adjusted using presets or simple manual controls. Adobe's AI technology, Sensei, does much of the work calculating the lighting according to the background image, etc.
Alex Clark, who created the "Tiny Worlds" series in Dimension represents another direction for users of Dimension. He studied design and creates his own 3D assets. He says Dimension is a great tool for beginners that's comparable to tools like Keyshot and Solidworks Vizualize and he finds it useful for its simplicity. On the other hand, Clark admits he'd like more control over lighting.
One of the most difficult challenges I have found using dimension is selling the placed 3D object, I find it hard to convincingly settle the object down on flat surfaces and then get the shadows just right.
For users who want more, content created in Dimension can be saved in Photoshop's native PSD format for further work, which is a good route for enhancing Dimension's original results. For instance, layers are maintained so that it's easy to enhance shadows add more effects.
Updates for Dimension
For April, Adobe shipped a new update for Dimension that adds cloud rendering, brings in updates from its new acquisition Allegorithmic, and supports high-resolution graphics.
Adobe has created its own ray tracing renderer which it is calling the Adobe Rendering Engine. Previously the company was using V-Ray for Dimension' rendering. As the company is progressing into 3D, and doing it in its own way, it recognized that it needs its own renderer. The company has seen an immediate payoff in performance. The renderer starts up faster and final renders are delivery faster.
Another reason that it makes sense for Adobe to have its own render is because it simplifies the addition of cloud rendering to Adobe's portfolio. All the licensing issues stay in house. One of the goals for Dimension is that it lets anyone create rendered imagines. Adding cloud rendering takes the burden off machines that may have only average CPUs and GPUs.
Currently, Adobe is offering cloud rendering for Dimension as a beta. Cloud rendering is free but images are limited to 2000×2000 pixels. When released, Adobe will move to a credit system. The company says most renders will use from 1-3 cloud credits. Three credits will produce a high-quality rendering. Adobe Creative Cloud subscribers are granted 15 free credits a month.
Adobe says that during the beta, they'll be gathering feedback and looking at user experiences to make decisions on how to offer cloud rendering services as a product to customers. Users are encouraged to provide feedback via Adobe's forums or by filling out their survey.
The latest update also adds dimensioning so that users can scale objects placed in dimension precisely. Gradually, the program is getting features that make it more practical for professional applications and perhaps even closing the gap between the engineering world and the world of graphic arts. The standard settings of Dimension documents can also be set to appropriate units such as pixels, inches, and centimeters. The spacing of grid lines in Dimension can also be set as required for a particular project.
The improvements to placing graphics makes it easier for artists to achieve the effect they want with graphics. They can choose to place graphics as a decal or a fill. In addition, the fill mode has been expanded with two options: repeat and mirror.
Also, users can now add multiple graphic images to objects in Dimension.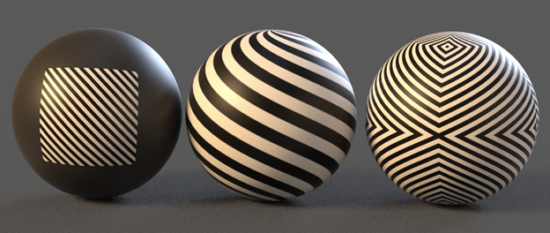 Adding Allegorithmic
Adobe acquired Allegorithmic in early 2019. So far, the company's products are still being sold separately from the Adobe portfolio. We had hopes that some form of Allegorithmic's flagship product Substance might magically turn up in Creative Cloud.
For this round, however, Adobe has settled for adding support for Substance materials to Dimension and has replaced the materials originally offered in Dimension with Substance materials in the Starter Assets tool bar.
Substance, lets users create their own materials from images captured with a camera or with supplied materials and then using sliders they can change features of the material to create endless variations. Dimension already has some of the flexibility for materials and it seems likely it will get more as Adobe takes advantage of Allegorithmic's technology and the talented developers that came with the acquisition.
Cannot wait
From the outset, Adobe focuses on creative people and not engineers. There are a number of reasons for this, but probably the biggest is cultural. There are big swaths of artists who wake up in the morning and thank God they don't have to deal with anything that looks or feels like an equation or an algorithm all day.
Engineers and architects are different. They too are creatives but they also enjoy working within the constraints of physics. It seems likely they will also gravitate to Dimension if it can enable them to more quickly visualize their ideas. However, heavy CAD models require preparation before they can be rendered and there are tools that can make this process easier. Anecdotally, we have found a considerable crossover between people working in engineering and design and people working in the creative fields. Most obviously both groups are made up of people who consider themselves designers and also Photoshop is often a constant in both fields.
3D captures the imagination of everybody, and a tool like Dimension is already helping to expand the use of 3D. The number of models available on Adobe Stock are multiplying exponentially but it's safe to say, there is never the exact right model. Adobe offers Fuse as a beta for 3D character creation. And 3D models are abundantly and economically available on sites like SketchFab, TurboSquid, and Clara.io. Clara.io also helps people create their own 3D models with a cloud-based 3D tool and tutorials.
The world would really like an easy-to-use 3D tool. There are countless programs that promise an easy path to 3D literacy, but so far, it's a rocky road for most people. And, to be fair, learning any new skill takes work.
Microsoft promised an easy tool with 3D Builder but 3D neophytes will be frustrated. Its simple interface is positively gnomic. Autodesk, for a while, hoped to meet the challenge with 123D Catch, and also ReCap, photogrammetric tools that enabled the development of 3D models by taking multiple pictures of an object. This is a promising direction, but Autodesk has discontinued 123D Catch and ReCap is designed for professionals.
In the end, it may well be that a company that defined itself as a tool for graphic artists, Adobe, will be the one who puts together a slate of programs that enable creative people to realize the visions they have in their heads even if those visions involve 3D. Dimension, Capture, Allegorithmic, Fuse, Project Aero, are all good first steps.
What do we think?
In the spirit of true confession, I have to admit that I have probably not tried hard enough to learn 3D tools. I have downloaded trial versions of many of the leading products, I have taken quite a few pictures for photogrammetric experiments. But, mostly what I have learned is that my frustration point comes quickly. My affection for Dimension is a direct result of my ability to get a passable piece of work completed within a reasonable amount of time.
Adobe is not the only company trying to crack the code on 3D design but it is interesting in that it has demonstrated a different direction to achieving 3D content. We figure it's going to inspire new development towards 3D content creation, and we're excited to see what comes next.