The Foundry is making collaboration an important feature in their portfolio of projects. The company's pre-production tool Flix is an early example of how the company enables people to work together on a project. At the time of its release, the Foundry and Imageworks talked about how the browser-based Flix enables everyone on a project to iterate quickly and maintain the history of iterations with versioning in the Flix database. The idea is that as a product is developed and planned everyone involved can see how it has evolved and not be left behind. Flix works with commonly used applications such as Photoshop, Maya, Modo, Katana, Nuke, After Effects, so that the files are maintained in their native formats as much as possible.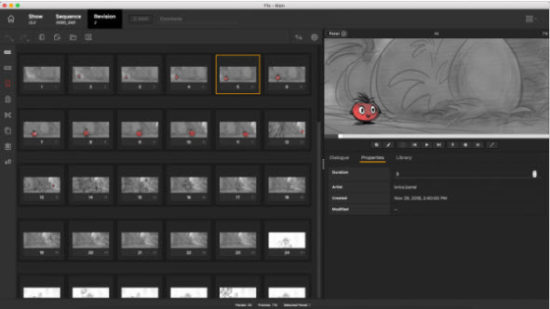 Flix was developed in conjunction with Sony Imageworks and had a public release in 2013. Even before that it had been used at Imageworks in multiple departments. The fact that this is the 6.0 release of Flix is an indication of how long the tool has been around, but the Foundry says that with this release the product becomes a central hub for production. It has been completely rearchitected with a new AI, it is robust and more scalable.
The Foundry says Flix has three major components for production:
It is a collaborative hub for pre-production, acting as a central location for everyone, including story artists, production staff, directors and editors—whether they are at the studio or working remotely—to access all versions of every section of a project.
It is a virtual production assistant, which Flix enables users to work in their preferred method on Photoshop, whether that's with Layer Comps, Timeline Frames or the Layer stack, and automates naming, organizing and managing boards. It also ensures an efficient editorial round trip, so that users can output their edits from Flix to Premiere and back with timing, ordering, and audio data with a simple drag-and-drop.
Review tools: Flix allows users to add drawn notes to panels, enabling the smoother transfer of information across departments. It also enables users to record pitches and automatically share them with editorial to be reviewed any time.
Flix has been modernized with a new centralized database that eliminates the old file-based system and it has a revamped backend that splits Flix into server and client apps making it easier for studios to deploy and artists to get on board. It is customizable and files can be handed off using pre-set naming conventions.
What do we think?
The Foundry prefers to work with its customers as it develops tools, which probably results in tools that are a little more battle hardened and require less redevelopment as it gets into the hands of users because, obviously, that's where it came from in the first place. The fact that Flix has been completely updated gives us a little bit of insight then into the development of collaborative tools. It's interesting to see how important Photoshop remains in the workflow of filmmaking. Photoshop's layer-based structure fits well into filmmaking workflows. There are also direct links to Premiere for editing.
Increasingly, the work that gets done in pre-production is staying through more of the production process which not only streamlines the work but also helps everyone involved in a project understand how it's really supposed to look and feel. Flix has been designed to avoid exporting intermediate files or converting content.