Compact, quiet design with high-powered processors manages eco-friendliness.
Back in 2015 when the crypto-mining boom was taking off, one of the problems miners had was getting enough AIBs into a compact package. A few Taiwanese and Chinese companies built specific cases, and many miners built their own.
In late 2018, Azultec was formed by people from Alphacool, a water-cooling manufacturer, and Aquatuning, and announced the Cube 300, a unique and powerful cloud rendering workstation/server. Originally, Azultec wanted to build an efficient miner system. To achieve this, they created an ecosystem that can recycle the majority of the energy consumed in the form of heat.
However, the crypto-mining boom was over, so the company speculated that purchasers of the Cube could earn monthly payments by providing computing power to a cloud network. The people at Azultec thought in combination with a self-developed ecosystem, rendering in the cloud could be revolutionized and become much more eco-friendly by reusing most of the energy consumed by the workstation.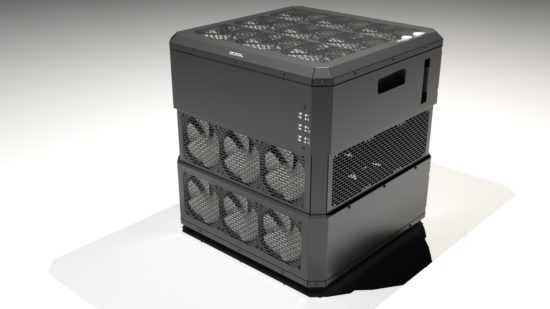 During development, as the crypto-mining market dried up, Azultec shifted its focus to a more lucrative application: rendering.
The need for rendering resources is enormous: in addition to well-known software giants and Hollywood studios, other business segments such as 3D studios, animation studios, and advertising agencies also need as much computing power as possible to render their productions. That is where the Azultec Cube 300 could play because it offers high computing performance. The water-cooled workstation/server is conveniently well-suited for these tasks and the potential revenue for a user is much higher than with mining—it's taking a mining lemon and making rendering lemonade, or so Azultec hopes.
The revenue scenario. This example, says the company, illustrates how cloud rendering with the Cube 300 can be lucrative. Take the expected monthly revenue for cloud computing (€600–€2,000), subtract the electricity bill (€292 est), and that leaves one with a positive monthly result of €308 to €1,708 (less the amortization of the capital equipment purchase, of course). The Cube 300 itself has a retail price of €6,499/$6,999 and would be paid off in full within 4 to 21 months. Please note that this is a very conservative calculation, which corresponds to a workload of the Cube of only 25%; additionally, there could be a reduction in operating costs through recuperation. Also, the electricity costs vary depending upon location.
But wait! There's more. One can reuse the heat through recuperation.
By design, it's also possible to effectively reuse the heat generated in one's home or office. For this purpose, one could connect a Cube to a heat storage system, allowing, suggests the company, up to 72% of the consumed energy recuperated. This form of integration could reduce the operating costs of the Cube even further.
In addition to cloud computing, there is also the option to expand the hard drive space within the Cube and use or deploy it for cloud storage—the latter, of course, could also earn one revenue.
Azultec suggests the Cube 300 can be considered a super personal computer due to its unique features. Azultec says it has researched current cloud rendering and mining solutions and used that information to develop an effective alternative with high computing power, thanks to specially adapted graphics AIBs. Its 'all-in-one' concept avoids issues that have plagued previous cloud computing hardware. Azultec was able to reduce volume and heat development by relying on high-end custom water cooling developed for personal computers. That, says the company, makes the Cube suitable for installation in the home.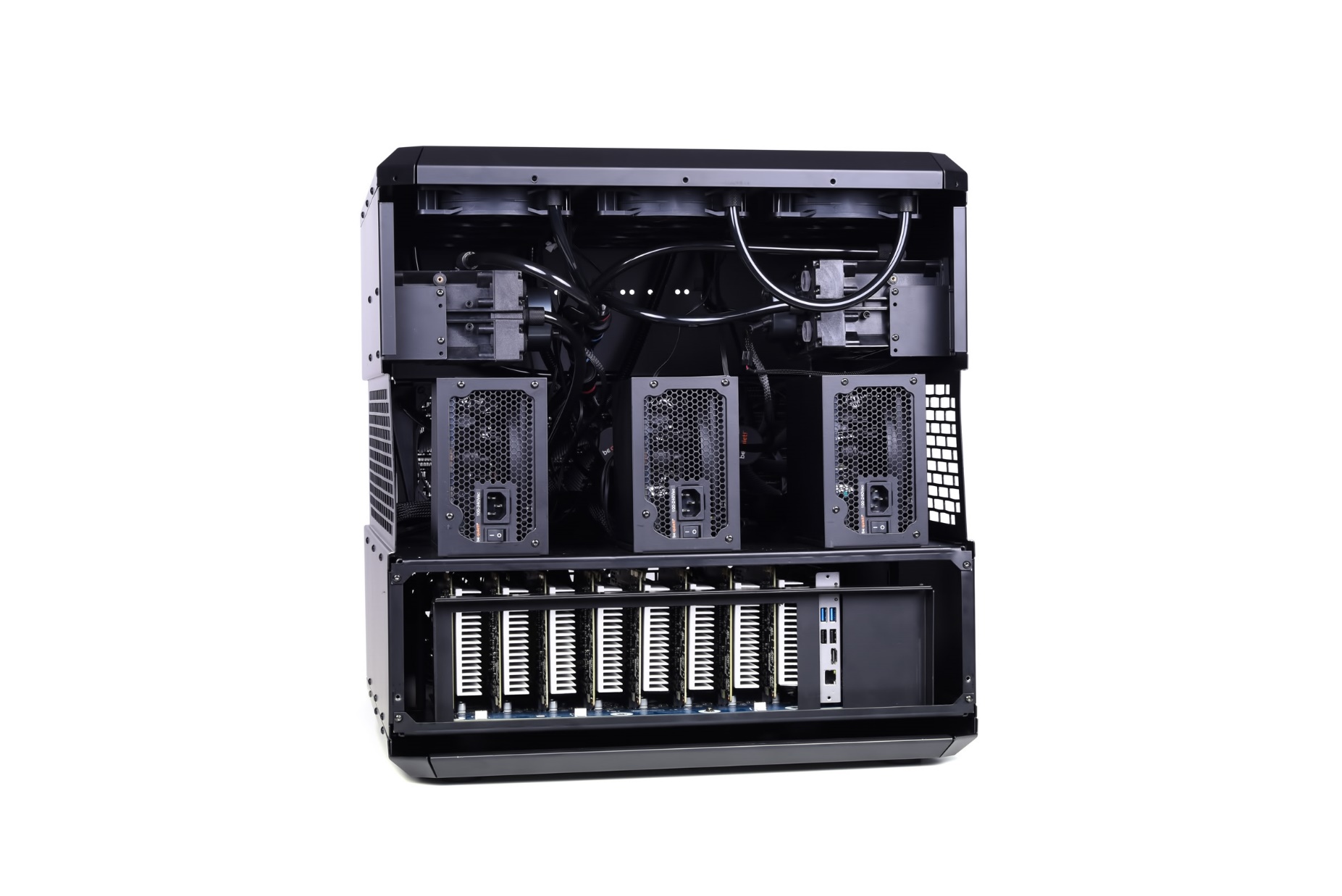 Azultec will initially offer the Cube 300 with the following core components: eight (8) GeForce GTX 1070 (each with 4 GB of GDDR5X), 4 GB of DDR4 RAM, and 2 terabytes of HDD storage. The graphics AIBs are water-cooled. The power consumption averages at 1,450 watts. In practice, the Cube 300 achieves an Octanebench score of 768 points and an Ethereum-hashrate of 310 MHash/s.
At CES 2019, the Azultec Cube 300 was rewarded as an Innovation Awards Honoree* in the category "Sustainability and Eco-Design." Read more by clicking on this link.
The first generation of the Azultec Cube will be shipped in Q1 2019. The price for the Cube 300 is $6,999/€6,499. The workstations are available today from Amazon and the Aquatuning online store. Azultech is based in Holte-Stukenbrock, which is between Hannover and Dusseldorf.
What do we think?
The folks at Azultec are clever, and their re-positioning of a product designed for one market (which disappeared before they get to it) to another more stable and growing market is brilliant. The added ROI arguments on re-cycled heat and selling rendering services are clever, and we expect several other companies who are asking themselves what to do with all the inventory they have, to copy Azultec's message.