The acquisition cements a close collaborative relationship and gives Epic Games an even stronger position in virtual production.
Epic's latest acquisition, Cubic Motion of Manchester, England, consolidates the work the two companies have been doing in virtual production. Game engines have been adapted for virtual production probably since at least 2013 or so. Tinkerers in film production were quietly playing with game engines as a tool for interactive capture with the advantage of realtime rendering so that filmmakers could see what they were doing. With the release of Jungle Book in 2016, the world could see what was being done with virtual production. The Jungle Book team worked with Unity on that production. In addition, filmmaker Neil Blomkamp (District 9) and his brother Mike founded Oats Studios in order to explore virtual production. Their series of robot sagas, Adam, was showcased in 2016 at Unity's GDC presentation.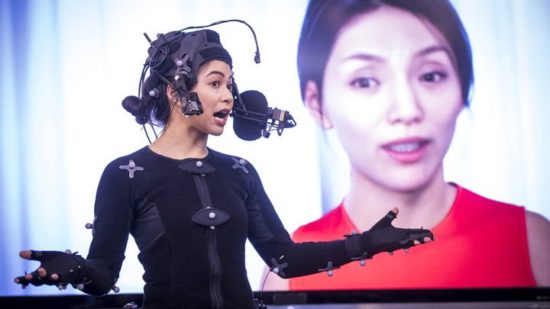 Epic Games likewise revealed their work in Virtual Production in 2016 during the annual State of Unreal at GDC when Epic revealed their demo of Senua's Sacrifice. During that demo, Epic raised the curtain to show that they were able to simultaneously capture the performance and play back the performance within the game engine. The demo was created in conjunction with 3Lateral from Serbia. The company CEO, Vladimir Mastilovic, and his team have developed 4D volumetric capture tools.
The unveiling of interactive performance capture by Epic during their "State of Unreal" talk was an eye-opener at the time. And still worth watching. (Source: Epic Games)
Cubic Motion's CEO Gareth Edwards pioneered facial capture and founded Image Metrics in 2000. The company was able to provide a look into the future with their Meet Emily demo. Image Metrics veered off to explore facial capture for casual games and consumer applications, and Edwards went back to his roots and started Cubic Motion in Manchester.
3Lateral has also worked with Epic on the production of Siren, a virtual human, and several pieces starring actor Andy Serkis including Black Osiris, which features Serkis performing the tomorrow soliloquy from Macbeth as an alien. You can just imagine.
Epic Games acquired 3Lateral in January 2019 to support their work in creating virtual humans and creatures. Apparently, Epic decided it'd be good to get the band back together with the acquisition of Cubic Motion. The move centralizes two powerful tool makers within the stables of Epic Games. In a prepared comment, Epic CEO Tim Sweeney said that digital humans are the next frontier of content creation as well as one of the big challenges of computer graphics.
Epic Games CTO, Kim Libreri, shares Tim Sweeney's appetite for big challenges. He says that by holistically combining Epic's Unreal Engine with 3Lateral's facial rigs and Cubic Motion's solving technology will enable Epic to leap the uncanny valley and "reach the pinnacle of digital human artistry with Unreal Engine."
There's crossover in the expertise of the two companies. Cubic Motion has Persona, a hardware/software product that enables performance capture and applying the performance to digital characters in realtime so there's rich potential between the two companies.
All these people have devoted many years of their career to perfect their ideas of digital realism. Both Edwards and Mastilovic talk about the deep knowledge of human facial expression and movement required to create digital content that can connect with audiences. Mastilovic says, "creating digital humans requires deep understanding of every aspect of our appearance and motion, both of which portray our inner self and tell stories around us."
Mastilovic will lead Epic's digital human work with the partners who have brought the company so far into the realm of performance capture and creation including Vicon, Cubic Motion, and others.
What do we think?
Too bad GDC was cancelled. I bet Tim Sweeney and Kim Libreri had one hell of a State of Unreal presentation planned for this year. The work that's been going on in virtual production for movies is exciting and it means more than just creating realistic humans and creations. It gives content creators, those with the inspiration to create a work, the tools to actually shape performances. The uncanny valley does not only exist between digital characters and the people watching them. It exists between content creators and their creations. All digital content will be influenced by the work being done in virtual content creation.
Read more…