It's virtual and it's local.
Bentley's reality modeling software, ContextCapture, is now offered both as an on-premise and cloud-based service. Users can now access Bentley's Connect cloud services with ContextCapture Cloud Processing Service and ProjectWise ContextShare. This technology allows one to automatically generate, store securely, and manage 3D, engineering-ready reality meshes, orthophotos, digital surface models, and point clouds.
Users can access ContextCapture Cloud Processing Service using ContextCapture Console, a desktop application for uploading photos and point clouds. They can also use ContextCapture Mobile, a mobile application available for Android and iOS that takes the photos from one's camera to generate the 3D model.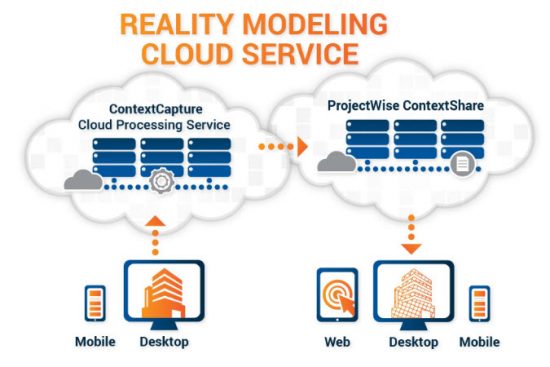 ProjectWise ContextShare enables the management of massive quantities of reality modeling data. Users can search, download, share, and stream 3D reality models from a web portal to one's desktop and mobile devices, in many formats, across project teams and Connect Edition applications.
All the latest versions of Bentley's Connect Edition applications, which are based on MicroStation, can reference and stream reality meshes.
Bentley has continued to add new capabilities to streamline the reality modeling workflow. Some of the latest examples include:
3D resolution map visualizes the resolution of one's 3D model, enabling quality control and reporting of one's acquisition.
QR code framework allows automatic extraction of control points, user tie points, or constraints, as well as automatic asset registration. For 3D spatial registration of assets, one only needs to place the QR code tags on the assets before performing the photo acquisition.
Thermal imagery support in the mesh texture mode allows one to quickly identify leaks or abnormalities of one's critical assets during the inspection and maintenance process.
Coming soon is the reality modeling-enabled visual operations solution. It is a new solution for owner-operators of industrial facilities seeking to streamline their operations and decrease inspection costs. By combining asset information with a 3D reality mesh automatically created from photographs, asset managers and field technicians can more easily access information and obtain intelligence about their assets. This solution provides a comprehensive digital twin that effectively documents brownfield conditions and spatially links asset information providing the "where" to asset management.