They're monitors, not models.
To the best of my recollection, Dell was first with their beautiful U3415W curved 34-inch 21:9 IPS WQHD 3440 × 1440 monitor. They then topped that with the U3818DW 37.5-inch, 21:9 IPS WQHD+ 3840 × 1600. Then HP introduced the Envy 34, an AIO, and a workstation version. And now Fujitsu has joined the ranks and brought out their B34-9U.
Acer and HP, as well as LG Electronics, also brought out a 37.5-inch model. All these monitors (34-inch and 37.5-inch) are using either Samsung or LG curved panels so the specifications are pretty close. Samsung has higher contrast ratio. LG has a better off-axis view. The monitors come with 99% sRGB. Prices range from $700 to $1,500 for one of these beauties, with 4.82 to 6.14 megapixels and 109 to 111 PPI. Bezel thickness varies among the suppliers, but generally they are pretty thin. Most of the monitors come with built-in speakers too.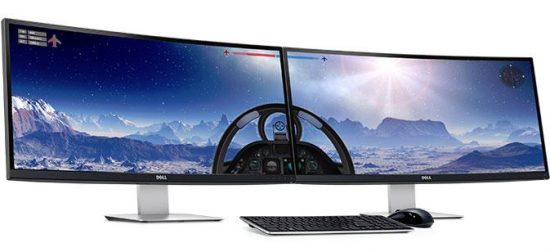 With so many companies offering these ultra-wide, high-resolution displays at reasonable prices for professionals and prosumers, we expect this category to become a special segment. Video photo and music editors, graphics arts and CAD practitioners, and editors and layout artists will want and benefit from these wide displays which let them do more because they can see more.