This expansion of Bentley's iTwin platform enables carbon assessment in infrastructure digital twin solutions for reaching more sustainability goals.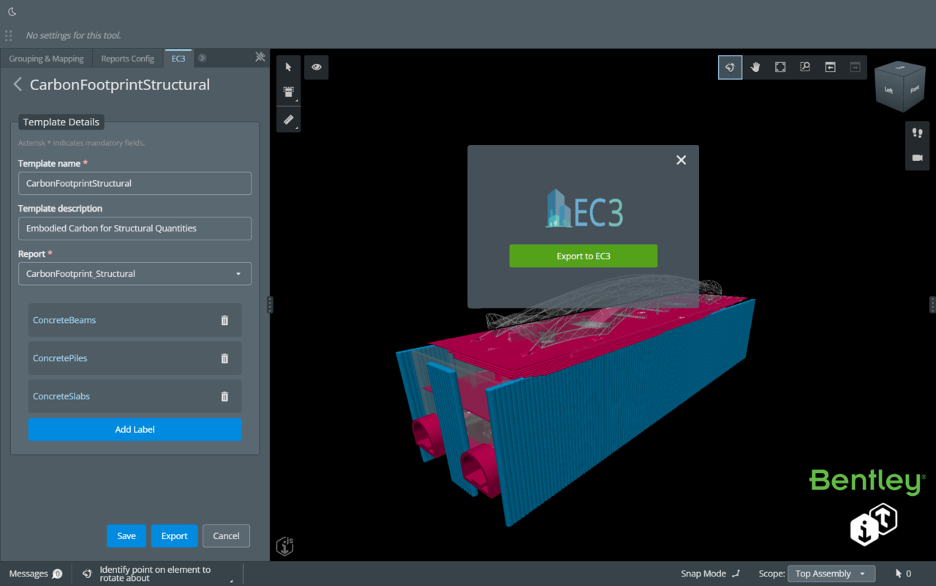 Infrastructure engineering software company Bentley Systems has greatly extended its fight against climate change by integrating the Embodied Carbon in Construction Calculator (EC3) into their iTwin platform. iTwin is Bentley's open platform that provides the foundation for building SaaS solutions that customers use to design, build, and operate their infrastructure assets. Creating a digital twin of a design before construction offers key insights into costs and maintenance—and now includes the ability to calculate the carbon footprint of construction.
EC3 is a free open-source tool developed by the nonprofit Building Transparency that allows users to benchmark, assess, and reduce the carbon produced during the construction process. With the tool, users will see what is pushing their carbon footprint higher during the design and procurement phases. Approximately 50 industry partners, including Microsoft and Autodesk, banded together to create EC3 for the sake of tackling climate change. Since its inception, EC3 has been driving demand for low-carbon solutions and transparency in the construction industry.
EC3 users can use carbon calculators to alter their designs to have a smaller carbon footprint. The information EC3 gathers can be used to create construction requirements, and policymakers can incentivize the use of low-carbon solutions. By integrating EC3 into iTwin, Bentley is giving their customers a nudge toward low-carbon building processes, though many countries already have sustainability requirements and carbon reduction guidelines.
The EC3 integration enables Bentley's infrastructure digital twin solutions, which are powered by the open iTwin platform, as well as third-party applications built on that platform, to more simply and easily generate carbon reporting and insights for optimized engineering solutions and material selection. According to Bentley, designers and sustainability engineers spend a lot of time assessing the environmental footprint of projects, and many still do so by manually exporting and aggregating data from quantity counts and bills of materials—which is time-consuming and can easily introduce errors.
"We see the EC3 integration as a critical feature for the Bentley iTwin platform, further driving us toward the sustainability vision for the platform," said Kaustubh Page, director of product management for Bentley's iTwin platform. "We are glad to integrate an additional lifecycle assessment tool to unlock decarbonization workflows."
What do we think?
As the effects of climate change ramp up in the coming years, so too are regulations. Carbon footprint analysis and reduction are important aspects when planning, designing, building, and operating an infrastructure project from beginning to end. EC3 and iTwin will help those in the AEC industry meet and even exceed low-carbon solutions. Digital twin platforms for construction design should follow Bentley's lead. Carbon regulations will increase in the coming years and making this move early will prepare the market for new construction policies around the globe.