The move opens doors wide for metaverse applications.
Autodesk has been on board with metaverse since Autodesk University 2021, and the company furthered its commitment at AU 22 with its announced plan to provide teams with Twinmotion for its Revit users. Twinmotion is Epic Games' visualization tool created for CAD designers. The idea is that it lets users create dynamic visualizations of projects with just a few settings.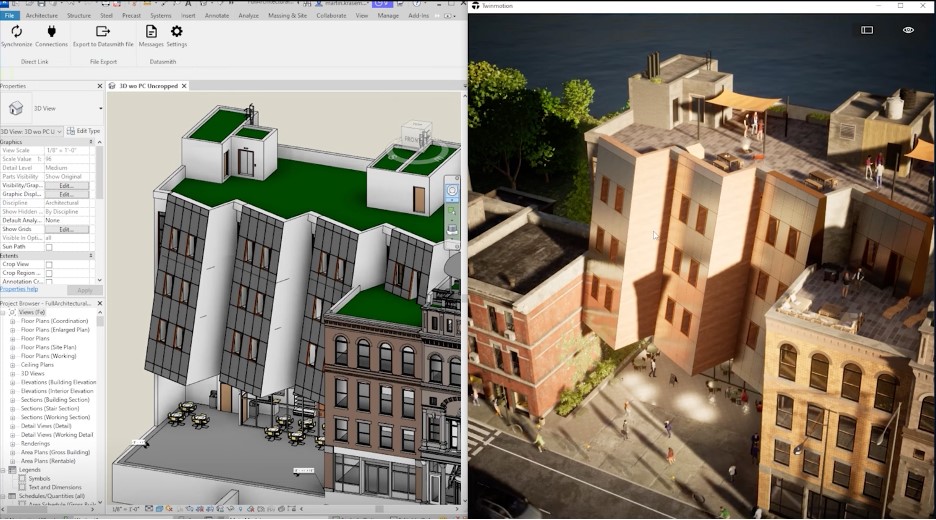 Autodesk's work with Epic is part of the company's ongoing work to further integrate the digital and physical worlds, but more to the point, in this case, Autodesk has pledged to increase interoperability between third-party tools for better workflows.
Autodesk and Epic announced the first fruits of their collaboration in 2021 with the revelation of an Unreal Live Link for Maya plug-in, which allowed content creators to stream data from Maya to Unreal in real-time.
The latest release of Revit, Revit 2023.1, with Twinmotion access, represents the first integration of Autodesk's planned integrations of complementary tools for extended reality workflows.
All Revit subscribers will have access to Twinmotion. That includes stand-alone Revit, AEC Collection, Flex (Autodesk's pay-as-you-go option), and Enterprise Business Agreement (EBA) subscriptions. Customers will be able to launch Twinmotion for Revit directly from the Revit ribbon.
This AEC Autodesk Twinmotion relationship is a first step, but the companies are also planning to develop experiences for M&E and manufacturing. Both are members of the industrywide Metaverse Standards Forum.
For more information, see Autodesk's Revit blog and the Epic blog.
What do we think?
The metaverse is coming. Sure, sure, there are many who put it in the same category as cryptoanything, but Twinmotion is an example of something that can create an immersive experience almost instantly. That is invaluable in industry and in art. Game engines are demonstrating their flexibility for multiple uses, and the Metaverse Standards Forum is committed to smoothing the way for developers… all steps on the way to new metaverse applications.