Makers of Giant Bear now working on three projects including a VR experience for 2020.
Epic Games announced e.d. films as their first MegaGrant award winner for an animation company. The company says they'll use the money to continue production on three projects which include two shorts and a VR experience coming in 2020. The company has an innovative style that combines 2D and 3D and they're using Epic's realtime tools to efficiently produce their work.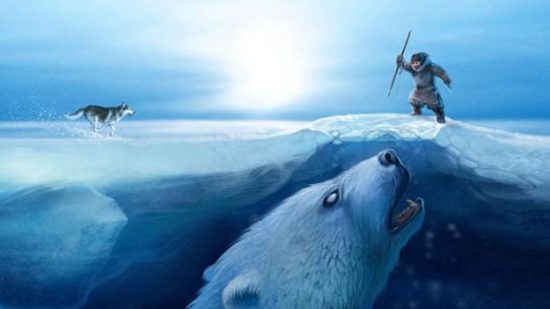 We had the pleasure to work with Emily Paige of e.d. films for our panel at FMX last year, "Getting to Done." Emily along with Hugo Guerra of Hugo's Desk, Senior Director James Jeffers of Intel's rendering and visualization team, and software developer Mauro van de Vlassaker from Maxon talked about the changes realtime technologies have brought to production pipelines.
Last year's production from e.d. films, Giant Bear was selected for several film festivals including Annecy. The production was also a learning experience for e.d. as ramped up on the Unreal Engine. The team used Unreal's Blueprints node-based scripting system to build their story meaning they could create the piece with less programming. But perhaps the real game changer for them is realtime rendering. "People don't have to sleep under their desks anymore," Emily told me as she described the differences her company has experienced using traditional production methods and in realtime via game engines.
Learning experiences are also part of e.d.'s core mission. The company creates tutorials to share their experience and they also sell tools and assets to help fund their filmmaking.
In a prepared quote with the announcement of the award, Paige called game engines a revolution in motion. She said,  "every year, we get better and more ambitious. It's been exciting to work with the Epic team on this progression, as they see the same future in realtime animation and want to empower creators just like we do. We look forward to seeing where it all goes, and hope to make an impact where we can."
The projects e.d. films is working on for 2020 include:
Hairy Hill—An upcoming short, Hairy Hill explores a rural family's relationship with nature and tragedy through an artful blend of traditional 2D, paper puppetry, and performance-driven animation. Through custom tools and game engines, Hairy Hill is creating a new fable from a personal narrative. To see: https://vimeo.com/373470218.
Three Trees—As the seasons change, three trees learn about themselves, friendship and their place in the world. This sweet children's short was written by R. Horhager and created by combining PSD to 3D with Unreal's aptitude for look development and worldbuilding.
The Garden—Directed by David Barlow-Krelina, The Garden is an ambitious musical VR project about a strange little man with a blossoming mind. The current builds fuse classical cinema, realtime, and interactive animation into an experience that is rapidly evolving.
For more information, have a look at e.d. films showreel here.