Chaos differentiates with application-aware rendering.
The Chaos Group recently announced its release of V-Ray Next for Revit, which enables high-quality rendering straight out of Autodesk's building design software. Similar to V-Ray Next for SketchUp and Rhino, Chaos is distilling over 10 years of their rendering R&D into a tool that makes sense to architects using Revit. By tightly coupling V-Ray with the host design software, they hope to transform the complex problem of producing photorealistic renders into a fast and straightforward solution. This is in contrast to Autodesk's high-quality Arnold renderer, which requires Revit files to be linked and later rendered in a separate host package, namely 3ds Max.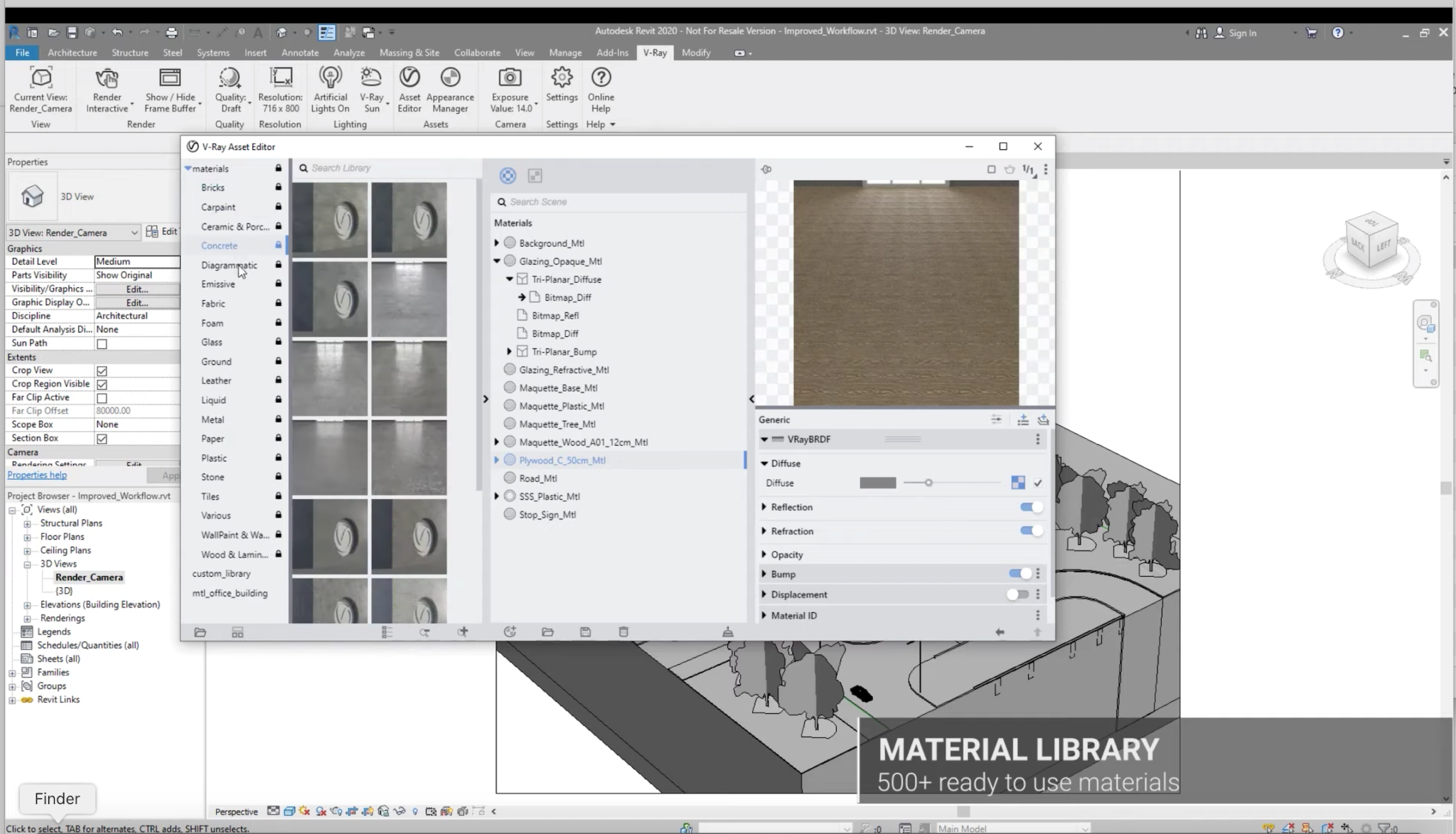 Features
Chaos product manager, Ana Lyubenova, describes V-Ray Next "as helping Revit to do things it couldn't do before." They believe they're offering customers a better Revit because it's smarter, faster, and more efficient than using it without V-Ray Next. There is a new asset editor that enables users to create, edit, save and manage V-Ray materials all in one place. Also, Revit users can now perform lighting analysis by evaluating real-world lux values from daylight and fixtures to determine the exact illumination levels of their design.
In terms of improved performance and intelligence, Chaos is promoting CPU and GPU speed-boosts, over previous versions of V-Ray Next, of up to 50% and 200%, respectively. The V-Ray physical camera can now set the correct camera exposure and white balance automatically. There's also a new realtime AI denoiser that eliminates image noise to help the user obtain a sense of lighting almost immediately.
Chaos is offering further efficiencies in its quest to simplify the rendering user experience. There's an improved toolbar, and full support for Revit Decals that make it simple to render paintings, signs, screens, and more. As for direct integration, users can now save their V-Ray settings directly within the Revit project, while a new and streamlined workflow allows for direct saves to a Revit project from the V-Ray frame buffer.
What do we think?
Traditionally, photorealistic rendering has been too expensive and complicated for your average architect to integrate into their regular design workflow. There's the miserable human-computer interaction, complicated interface logic, and slow rendering performance that continues to get in their way. But given how technology is enabling laypeople to take professional-looking photographs, there's no reason to doubt that combining faster processors with artificial intelligence can significantly improve synthetic rendering too.
With the release of V-Ray Next for Revit, Chaos is leveraging advances in processor performance and artificial intelligence to provide a better-integrated user experience to architecture customers using Autodesk Revit. Until Autodesk Arnold is integrated directly into Revit (we have no word on if or when), we believe Chaos continues to have the upper hand when it comes to tight integration and user experience for rendering.
Pricing and availability
V-Ray Next for Revit is available now. A full workstation license is priced at $750, with upgrades available for $395. V-Ray Next for Revit can also be rented for $350 annually or $60/month. There's also a free 30-day trial download by clicking here. For a full list of new features, please visit: chaosgroup.com.