The world of design is changing rapidly, and Adobe is doing what it can to stay abreast, or even ahead, of those changes. Recently, the company tapped Scott Belsky, formerly chief product officer/XVP of Creative Cloud, to chief strategy officer/XVP of its new Strategy, Designs, & Emerging Products organization.
Scott Belsky is an entrepreneur, author, and investor. Now he is Adobe's chief strategy officer and executive vice president of the company's newly formed Strategy, Designs, & Emerging Products organization. In this new position, he assumes control for company-wide strategy and corporate development, as well as leadership of design for all the products across Creative Cloud, Document Cloud, and the Digital Experience business at Adobe.
"My goal for our new organization is to combine the strategic and design work we do, to craft a future where we have more informed conversations and make bolder decisions. This is especially important in areas of our business that are either fast growing or ripe for disruption—those places where we need to make big decisions quickly," Belsky stated in a recent company Q&A. "But, reimagining how to deliver experiences (quickly accommodating new formats, responding to competitors, or rethinking business models) can be difficult to do without a way to explore ideas."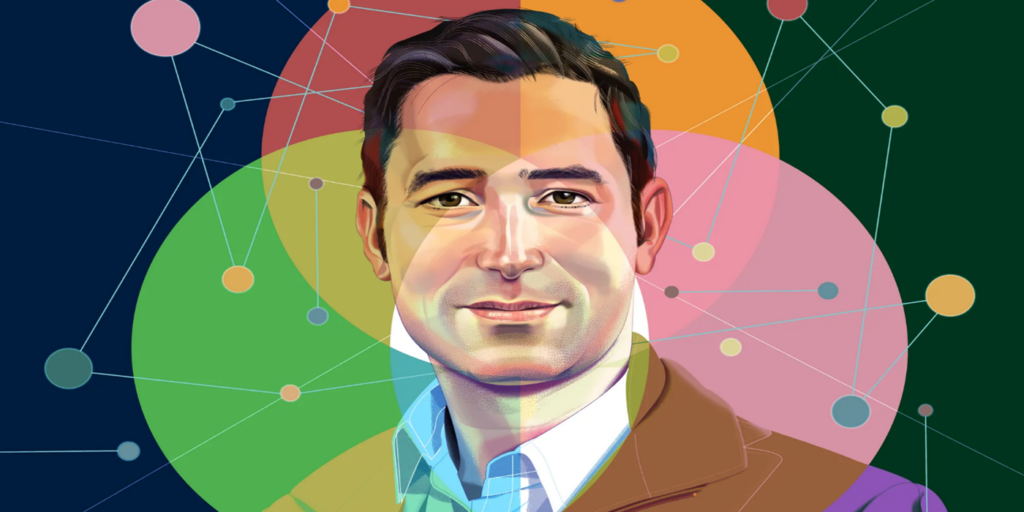 Adobe's Scott Belsky in a portrait befitting his design-oriented mission. (Source: Adobe, illustration by Nigel Buchanan)
Belsky has been a notable figure at Adobe for the past 13 years, ever since Adobe acquired Behance (and 99U), which he founded in 2006. Since then, his influence within Adobe has grown, and for the past five years, he has been Adobe's chief product officer/executive vice president of the Creative Cloud group, setting a new standard for how Adobe builds and ships products. In his newly expanded role, he guides leading product and engineering for Adobe's emerging and high-growth products during this era of extreme change in the creative world.
"Whether we're extending our products to mobile and Web, perfecting in-app collaboration, exploring generative AI, or investing in 3D and immersive technologies, one of Scott's areas of focus will be on Adobe's in-product experiences and the design that connects and elevates them," Adobe stated.
It's clear from Adobe's recent activities and product announcements of late that it has no intention of slowing down, despite being the market leader in the creative tools marketplace. During the past four years alone, Adobe has been on an acquisition spree, gobbling up companies and products including Allegorithmic (2019), Oculus Medium (2019), Workfront (2020), and Frame.io (2021), and is in the process of buying Figma, unless various governments are successful in their bid to stop the deal on the premise of stymieing competition in the marketplace. Of course, there have been a number of deals, alliances, and friendships during that time, too, including recent collaborations that link Adobe's Substance 3D (software acquired in that buy of Allegorithmic) with Epic Games and Autodesk.
Also, during the recent Adobe Summit 2023, the company presented the Enterprise version of its Express with Firefly, Adobe's creative AI tool. In the case of generative AI, a technology covered in the JPR's 2023 DCC report, Belsky emphasizes the importance of the data set used to train a model. It should be a data set someone can feel good about using, he adds, pointing to the Content Authentication Initiative being integrated into Firefly. "It's a great example of how an experience can help make people comfortable using new technology," he states.
Belsky believes there will be increased debate and policies pertaining to training data and how to compensate those whose work was used in the process. Nevertheless, he foresees technologies like generative AI as leading to more creative confidence in users as the new technologies spur creativity and expression like never before.
More AI implementation to the Adobe tool set is expected soon, very soon. After all, according to Adobe, Belsky's mission will be "to chart the company's next path, from the world of 3D and immersive design to creating with generative AI and building equitable products."