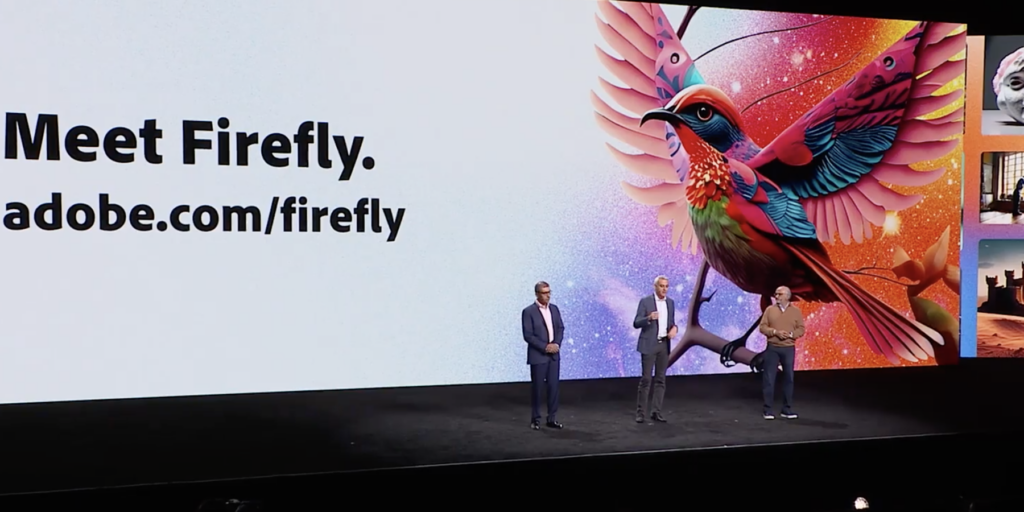 New and not-so-new SaaS-based tools for design are shaking up the comfortable world of design tools. Free and low-cost subscription services are enabling a new generation of designers to produce professional-looking content on demand. The incumbents including Adobe are scrambling to keep up.
Adobe was very excited about its new Express product at last year's Max conference in the fall of 2022, but the news may have been lost amid the wealth of news from Adobe Max, especially about new features powered by Adobe's AI brain Sensei.
Express is Adobe's revamp of Spark, which was introduced in 2016 as a free tool to enable fast ideation of content such as ads, banners, logos, cards, etc. At that time, it was toylike and geared to make people reach for Adobe tools such as Stock, Fonts, Photoshop, Illustrator, and so forth. The 2022 release of Express sought to provide a much more viable alternative to young designers, freelancers, and harried professionals—people who need to come up with an idea quick and move on.
In 2021, Express came with more available free content such as photos, fonts, templates, and more. It was very good and much, much easier to work with. Built for collaborative workflows, it enables created content to be output and used for Web ads, printed content, streaming content, and so on. Sounds obvious, doesn't it? Originally, Spark was more restrictive about how one accessed their designs and put them to work. The principle then was to ideate in Spark and finish in a Creative Cloud app. Better yet, the revamped Adobe Express folded in the Premiere Rush tool for fast and easy video development. Rush works on all platforms, but it sprang from the mobile world, where streaming videos have become valuable tools for marketing and communications. Streaming videos have, of course, blown up for self-marketing influencers, and that engine seems to be revving back up post-pandemic.
There is a wealth of free data available in the weird hall of mirrors that is influencer marketing and market analysis. Influencer Marketing Hub says the market is poised to grow to $21 billion in 2023, and Forbes claims 2023 is the year of the micro- and nano-influencers, but multiple analyst sites also observe the trend slowing down.
Express vs. the competition
Express did have some frustrating gaps, and sometimes it even seemed as if nice features of Spark had mysteriously disappeared (at least to this user), resulting in long delays searching for a simple capability such as, where did my color palettes go, where did I put that logo? Those hiccups are disappearing rapidly, and Adobe has obviously come to play, but it's not alone on the playground.
The biggest problem for Adobe is that the design zeitgeist has spit up some amazing cloud-based tools including Canva, Vista (formerly VistaPrint), Unsplash photos, and many more. It's a fast-moving field featuring more acquisitions than a midnight game of Monopoly. For instance, VistaPrint acquired Crello and Deposit Photos to become Vista. Most recently, Canva has acquired UK-based Flourish for data visualization and in a fell swoop added 70 million users to the Canva base, assuming there is no overlap, which of course, there is.
As this is being written, Microsoft is just rolling out its Designer tool with all the power of Microsoft's AI engine married to solid design tools and stock content. So far, it doesn't match the resources in the other competitors mentioned, but this is Microsoft. If they want this market, they won't quit until they have a position. (Or, they might just walk away and pretend they really didn't care anyway.)
At the same time, Canva is holding its massive user conference this year in Sydney and rolling out a raft of AI-based gifts. It's pretty obvious SaaS workflows are being accepted by new users and old hands, and that AI is going to be a major selling point.
In the face of the meteoric rise of these companies—Canva is now just 10 years old while most of its competitors including Adobe Express are far younger—the concept of design tools is rapidly changing. They are geared to a not-rich tier of users who are typically young. According to statistics published by Canva and social media marketing sites including The Social Shepherd, Canva's user base skews young—64% of its users are 18–34 years old with the largest group falling between 25–34 years old. And, there are a lot of them. There are over 110 million users and over 800,000 teams registered for Canva's services. At its conference, Canva now says they have 125 million monthly users.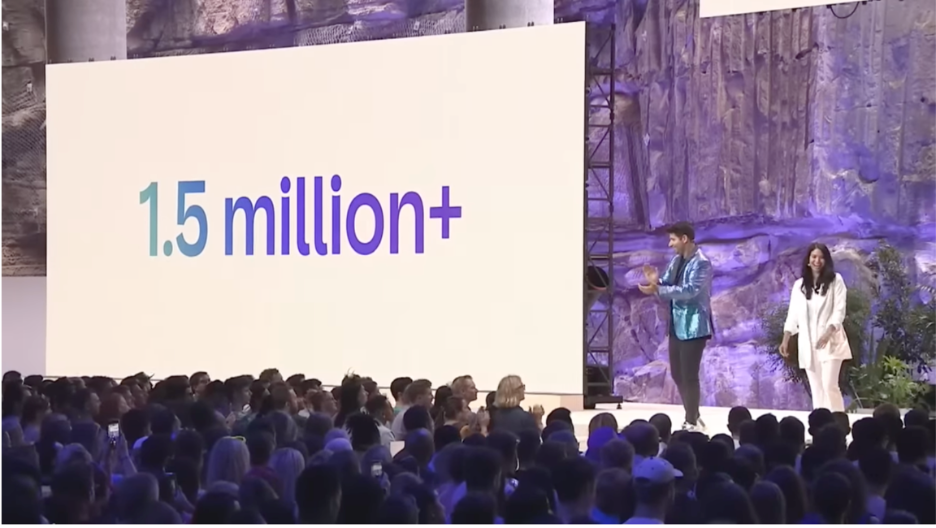 Adobe doesn't publish quite as much data these days. It's estimated that there are over 25 million active subscribers to Creative Cloud. Coming back around to Adobe Express, David Wadhwani, Adobe's president of digital media, told participants in Adobe's September 2022 financial call that Express has great momentum with millions of new users coming to Express via viral adoption and Adobe's marketing efforts. It's safe to assume a healthy proportion of those 25 million or so Creative Cloud users will naturally add Express to their tool kit. After several years of attending Max, it's obvious that Adobe's mainstream audience tends to be a bit older and more experienced than this young crop of low-cost SaaS tools customers, which is natural, given Adobe's interest in corporate and enterprise users. They are selling data management as much as creative tools, and it comes at a price that often excludes independent designers.
Wadhwani said Fast Company had chosen Express as one of the best new productivity apps of 2022. In that same call, Wadhwani noted that Adobe's $20 billion deal to acquire the collaborative design tool Figma fit into the work they're already doing with Express. Adobe already has a similar tool called XD for app and interface development, but Figma is cloud-native, and that's where Adobe wants to be. Figma also has around 4 million users. By the way, another competitor in this mix is Google Web Designer—a serious HTML-based design tool that competes with WordPress and Wix. Google Web Design is not nearly as inviting as Figma or Canva but generates code, which is a comforting feature for engineers and is part of Google's Squarespace holding. The group reported $867 million in 2022.
At this year's Adobe Summit in Las Vegas, Adobe introduced the Enterprise version of Express, which features Adobe's AI creative tool Firefly. The Enterprise version of Express draws on the work Adobe has done offering DAM (digital asset management) tools for the enterprise. Express for Enterprise fits into AEM (Adobe Experience Manager), giving customers a considerably more powerful brand management tool than the rudimentary capabilities included in Canva and some competitors. This latest release of Express is designed for teams and Enterprise users but will also be available to subscribers to Adobe's All-App plan, whose pricing starts at $54.99 a month, and also Adobe Spark for Education plans.
Firefly includes Adobe's new generative AI models, enabling users to generate images and text effects. In addition, Adobe introduced Generative AI Tech to enable marketers and designers to generate text to accompany Express designs.
Interestingly, Adobe will allow artists to submit content created with Adobe's AI generative tools to the Stock library, Adobe's store for stock art of all descriptions. In addition, Adobe addresses the emerging controversy from artists that companies offering AI engines are stealing their work by training AI on available art. Instead, Adobe trained its AI on licensed work or non-copyrighted work. Sure, the exact images might not pop up, but styles are certainly being emulated. In fact, already artists are complaining that Canva, Crello, and Adobe are producing derivative work. There is clearly a hunger building for unique art, and the suppliers are pushing harder to provide it.
We are living in a great time for creators. There is a completive race going on to give everyone the ability to create "original" content in design. The astonishing improvement in tools and content is evident almost daily with a visit to the sites.
Stay tuned, there is much more to come. New work is iterating while you read this.