Other features in the free update include new tools to expand how curves can define edits and modify other objects.
Pixologic continues to refine the 3D toolset in ZBrush, its popular digital sculpting software. In the R6 update, Zbrush 4 offers significant improvements to ZResesher, its automated retopology tool for modifying the existing topology of an object.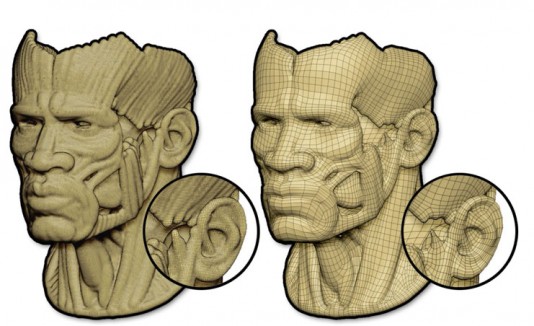 ZBrush combines 3D modeling, texturing, and panting with its proprietary "pixol" technology, which stores lighting, color, material, and depth information for all objects on the screen. It is best known for being able to sculpt high-frequency details there were in the past painted as bump maps.
Central to Release 6 is ZRemesher, an evolution of ZBrush's automatic retopology tool. It analyzes the curves in a mesh to produce a denser, more natural polygon flow. When an artist wants more control ZRemesher also provides features such as local density management and curve flow orientation. New in Release 6 is the ability to perform local retopology to a specific part of the mesh while keeping all border vertex points welded to the rest of the model.
Other new features in ZBrush 4 R6 include:
Trim Curves Brushes: Similar to the existing Clip Brushes, but instead of pushing the geometry to the drawn stroke, Trim Curves deletes all geometry outside the Trim Curve line and closes the resulting hole.
Bridge Curve Brush: Creates a polygon bridge between surface holes, PolyGroup borders, or creased edges.
Creasing Brush: Allows a freely drawn curve to define where an edge crease will be applied.
Visibility Expanded: The various Slice and Close Holes brushes will now work with partially hidden geometry to create unique slices or control which holes to close and which ones to keep open.
New Curve Framing: All brushes that have CurveMode enabled will automatically detect the openings in any surface, creased edges and also PolyGroups.
ZBrush 4R6 is a free upgrade for all registered ZBrush 4 users.