Prescient provides an add-on to Revit that transmits instructions for custom robotic frame manufacture.
If the response at the recent AIA conference in Denver was any indication, a new architectural CAD/CAM system that uses Revit as a base to integrate the design, engineering, and manufacture of a custom framing system is a hit.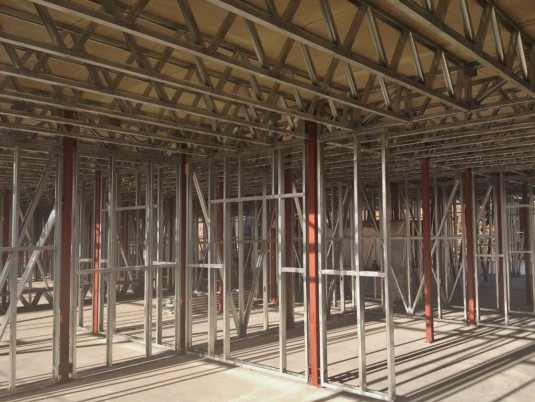 Prescient offers two services. The first is a proprietary software add-in to Autodesk Revit that integrates the design and engineering of its framing system with project plans during the architectural design process. The second is the transmittal of a precise bill of materials back to Prescient's production facility for design-to-production manufacturing. Prescient then delivers and installs the panelized structural system for a turnkey, fully integrated solution that saves both time and money.
The Prescient booth was full throughout the entire AIA Conference and Expo, as curious architects and builders slapped the steel and demo'ed the software.
Prescient's manufacturing process employs robotic welding to create light-steel framing materials, accomplishing high throughput efficiencies and very tight tolerances, "something not typical in the construction industry," notes Prescient co-founder and CEO Jon Vanker. "We believe our platform will truly revolutionize our industry."
Vanker says the cost of designing and cutting the custom steel framing "is very competitive with lumber framing, especially with recent price increases for both wood and labor." A standardized panel system allows Prescient to work with a limited number of components to solve a building's structure, making it possible to release the software for general use inside Revit and to roll and cut the beams on demand. "It is very efficient to install," says Vanker. "The limited number of parts makes it more like an erector set than typical on-site framing."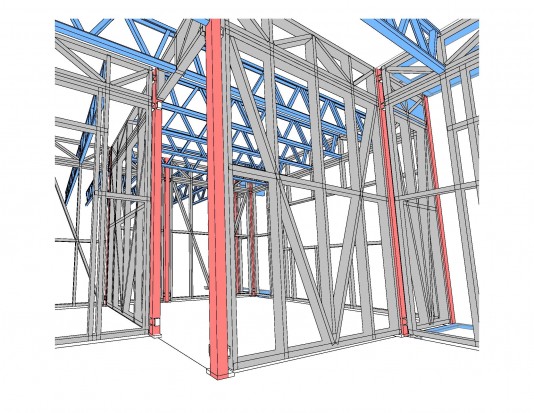 The Prescient system is meant for multi-unit buildings such as apartments, condos, senior and assisted living communities, hotels, and student and military dormitories. For the AIA convention Prescient built a two-story mockup of its framing system. The Denver-based company completed its first project in March, the Boulder Street Apartments and has now started a second project, University Station at University Avenue and I-25 in Denver.