More than 90 manufacturers produced and sold industrial additive manufacturing systems in 2016. Metal 3D printing is almost 50% of the service market.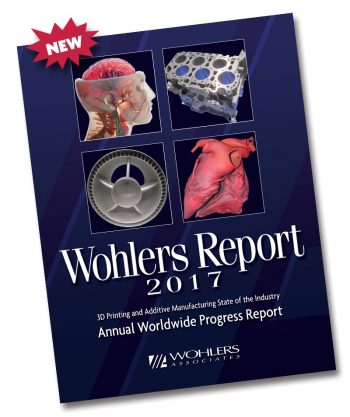 The newest edition of the Wohlers Report on the state of the 3D printing industry shows worldwide revenue growth of 17.4% in 2016, to $6.063 billion. This is a drop from 25.9% growth in 2015, according to the new report. The slower growth is attributed to a drop in business from the two largest vendors. If these two companies were excluded from the analysis, the industry would have grown by 24.9%.
According to Wohlers Report 2017, 97 manufacturers produced and sold additive manufacturing (AM) systems in 2016. This is up from 62 companies in 2015 and 49 in 2014. "These manufacturers are providing interesting products and unprecedented competition in the AM industry," says Terry Wohlers, principal author of the report and president of Wohlers Associates. "This wave of development and commercialization is putting pressure on the established producers of AM systems."
The Wohlers Report is considered the leading market analysis for the fast-growing 3D printing (AKA additive manufacturing) industry. The 2017 edition marks the 22nd consecutive year of publication. For Wohlers Report 2017, input was collected from 100 service providers, 61 industrial system manufacturers, and 19 producers of third-party materials and low-cost desktop 3D printers. Separately, 76 experts and organizations in 31 countries contributed information and insight to the new publication.
The 344-page Wohlers Report 2017 includes 28 charts and graphs, 26 tables, and 232 photographs and illustrations. It also includes more than 160 pages of supplemental online information that is available to buyers of the report.