A bit of AI and a few data points get you an avatar for clothes shopping.
One day we will all go and get our bodies scanned and then we can try on clothes in the privacy of our own homes. The first time I published an article on this subject was in the mid-nineties. As usual, it seemed like the prediction was right around the corner. Movie companies like the Framestore were working with photogrammetry years before it became more easily accessible, thanks to software advances and fast processors. Startups came and went promising to eliminate that walk of shame to the fitting room.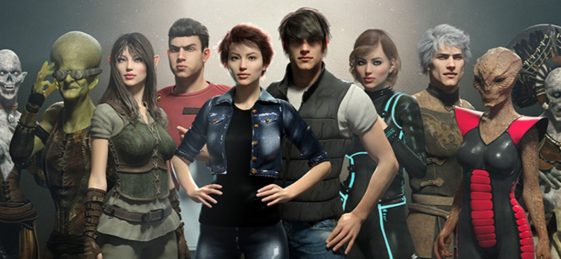 The thing is, if it's such an ordeal to go try clothes on in a store and try on clothes in an over-bright dressing room, with warped mirrors, and god knows who looking in on anti-shoplifting surveillance cameras, it doesn't sound so great to strip and stand in a 3D scanner.
We're saved. Bold Metrics, which uses AI and body measurement statistics for people all over the world to predict body measurements from a few data points, has teamed with Morph 3D, a company that creates avatars for social media sites, games, and AR/VR applications to enable people to create personal avatars without having to actually do measurements or get into a scanner.
The companies are proposing that people use VR or AR products like the Oculus Rift, Vive, Halolens, etc. to enter their virtual dressing room and try on clothes. Obviously, this doesn't work until retail websites and clothing manufacturers agree to use the system. There are big advantages to the system, but clearly there is also an ecosystem to build.
Luckily, creating a 3D avatar isn't very hard work. Users can answer a few questions, such as age, height, weight, shoe size and be ready to go with a personal avatar, with accurate-enough measurements. Morph 3D uses Bold Metrics statistical information about body types to build its avatars. The companies say people will be able to update their avatars if they lose weight, or begin a fitness program. Likewise, if everything goes south, they can make those adjustments as well, we presume, but who wants to talk about that?
What do we think?
Wow, well if you're worried about private, consider this another brick being removed from the wall. On the other hand, There is no doubt that a personal avatar to send to the digital store would be a mighty nice friend of have and most of us will sign up and do it, if the ecosystem is built. The companies debuted their software at Shoptalk 2017 in March.