Apple is nearing irrelevance in a surging workstation market. Thermal issues are one problem, market perception is another.
By Randall S. Newton
In the past few days a flurry of articles have come out discussing an unusual occurrence at Apple: candor about the future of the Mac as a professional computer. It seems the executive team in Cupertino has realized they owe professional Mac users a better sense of what is going on. Sharing a roadmap with the user base is common among the other vendors of workstation-class PCs, but unusual for Apple.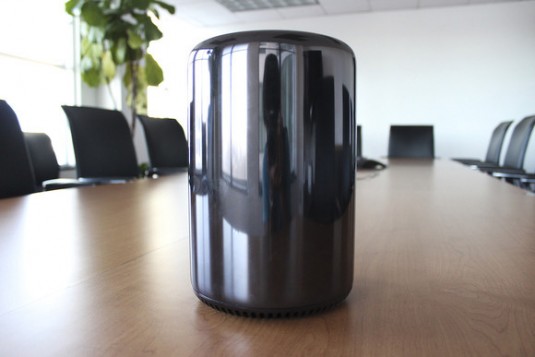 In a meeting with a select set of Silicon Valley journalists, three senior Apple executives (SVP of marketing Phil Schiller, VP of software engineering Craig Federighi, and VP of hardware engineering John Ternus) recently explained how they came to a joint epiphany about the need to not only take the Mac Pro in a new direction, but to explain to their loyal customers what they had in mind. For a full accounting of the meeting that lets you feel like a fly on the wall hearing every word, I recommend "Apple pushes the reset button on the Mac Pro" from TechCrunch.
To summarize, Apple now believes its unusual Mac Pro was too narrowly engineered, and can't adapt to support the high-end demands of its professional users. It was engineered for a maximum of two medium-duty GPUs, and can't be upgraded to some of the massive single GPU boards now on the market. TechCrunch quotes Federighi:
"I think we designed ourselves into a bit of a thermal corner, if you will. We designed a system that we thought with the kind of GPUs that at the time we thought we needed, and that we thought we could well serve with a two-GPU architecture… that that was the thermal limit we needed, or the thermal capacity we needed. But workloads didn't materialize to fit that as broadly as we hoped."
The "thermal corner" may be the biggest technical problem Apple faces with upgrading Mac Pro, but the market realities of Apple's professional dilemma no doubt pushed the company into this sudden burst of openness.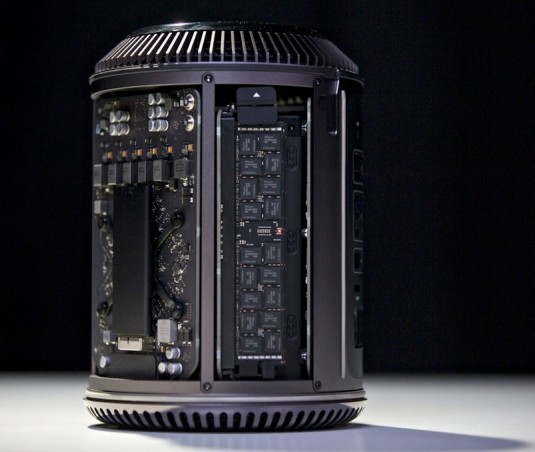 In the larger PC market, Apple is a formidable player. The Mac OS user base is approaching the 100 million user milestone. Mac division revenues will top $25 billion in 2017. The enterprise-class MacBook Pro continues to be a star, with 20% year-over-year growth in Apple's most recent fiscal quarter.
As Jon Peddie Research has been reporting, the workstation segment of the PC market continue to grow — nicely — while the general PC marketplace is in a slump. Apple wants and needs to be recognized as a player in the workstation market. Apple doesn't break out unit or revenue numbers for the Mac Pro; JPR estimates it at 100,000 units a year.
In the most recent edition of the JPR Workstation report, JPR Senior Analyst Alex Herrera says Windows-based vendors are working to expand the workstation market with new units directly aimed at "visual computing professionals who currently use [consumer-class or enterprise-class] PCs, and visual computing professionals who currently use Macs." HP estimates this market to be 5 million new buyers; Herrera thinks this market is at least "single digit millions." A Mac Pro designed in 2013 isn't carrying its weight in today's growing workstation market.  
A more customizable Mac Pro could gain Apple market share in all segments of the workstation market, from 2D CAD and Photoshop on the low end to 3D CAD, real-time video rendering, complex physics simulation, and machine learning on the high end. A workstation-class Mac more in tune with today's market realities could easily double its annual sales. Many architects, video editors, and industrial designers love their Macs, but many have felt forced in recent years to move to Windows-based PCs for better performance and a wider range of software tools.