Bentley demonstrates cutting edge experiments at Year in Infrastructure 2013.
By Jon Peddie
Bentley always gives a great conference and this year's Year in Infrastructure was packed with information. The company works at the leading edge of multiple technologies ranging from CAD, BIM, cloud based collaboration, mobile apps, and, lately, augmented and virtual reality. It may be just a matter of time till Bentley holds an A/VR conference and we all meet, greet, learn, and share from the comfort of our homes while sitting in our underwear.
Bentley first started experimenting with AR about five years ago and showed their first prototype in Amsterdam two years ago. One of the first applications was displaying pipes under streets and sidewalks, and one of the first things Bentley realized was the positioning of the viewer, especially when the viewer is moving, is critical … and difficult. So they came up with a brilliant idea – don't use the camera to look at the street for positioning, take a picture of the street, and use it as a view port with the subterranean (cloud-supplied) data of pipe and utility locations overlaid on the photo. Ideally, one could use a panorama of pictures to look around and because mobile phones are increasingly adding support and apps for panoramas this is a practical idea.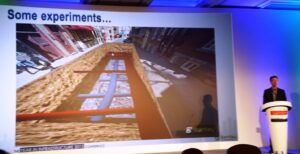 The registration is the tricky part and so Bentley has decided that the adjacent buildings, which are well established in various databases, would be the reference points. Also, when pipes and other underground utilities are put in, they are located relative to the adjacent buildings, so it ties together nicely.
For more details, please contact Stéphane Côté, research director at Bentley.
What do we think?
Bentley is building on the concept of hypermodeling, which Bentley defines as the ability to access virtual models, real world data, and documentation  simultaneously and in context. It is at least one killer app for augmented reality.