A team of Dutch engineers are winning awards and gaining attention using an open source ethic and off-the-shelf parts.
A small Dutch company hopes its combination of open source ethic and engineering prowess will propel it to the top of the market for small, hobbyist-class 3D printers. Ultimaker's first printer won Best in Shootout from Make Magazine and Best Consumer Product at the 3D Printshow global awards. Now it is launching two new compact 3D printers for the Maker market.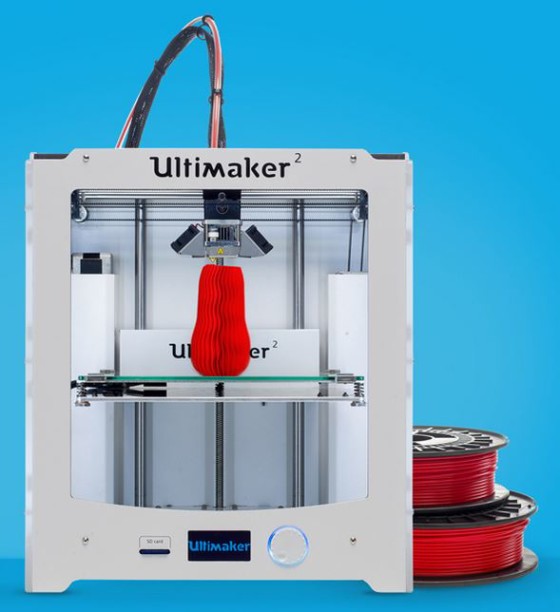 Ultimaker² comes in two models, Go and Extended. Ultimaker² Go is the entry level model, $1450. At that price it offers:
Speed from 30 mm/second to 300 mm/second, depending on the model;
A build volume of 230 x 225 x 205 millimeters (9.06 x 8.86 x 8.07 inches);
Print quality of up to 20 microns (0.02mm);
Desktop footprint of 357 x 342 x 388 mm (14.05 x 13.46 x 15.28 inches).
Ultimaker² Extended offers the same build speed and print quality, but with a 10 cm (4 inches) larger build volume and a heated bed.
Both printers use Fused Deposition Modeling with either ABS or PLA plastic filament, and stand-alone printing using an SD card to upload the 3D model.
Ultimaker came to market using the RepRap approach of off the shelf parts and a shared design. The company has continued the tradition with the Ultimaker²  line by offering its Bill of Materials for free on GitHub. Ultimaker also hosts a community website for sharing projects and ideas.