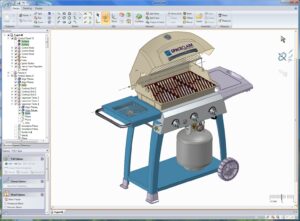 The Trumpf Group has chosen SpaceClaim Engineer to accompany its sheet metal fabricating equipment. The company's tools are used in  all industries, "from appliances to agricultural machinery," says Trumpf VP of sales and marketing. Burke Doar. He says Trumpf chose Space Claim for its sheet metal features as well as its "fast learning curve and ease of use."
SpaceClaim is a direct modeling tool designed to work alongside other CAD systems. The company calls its approach "CAD neutral." Because it is a lightweight design tool with direct design capabilities, SpaceClaim is used for industrial design, concept modeling, for rapid prototyping and for CAE model preparation.
The company lists Nokia Siemens Networks, BorgWarner, Medtronic, Lotus Cars, Sharp, K2 Medical Systems, FuelCell Energy, Emhart Glass, GE Aviation, GeneralDynamics and the U.S. Navy among its customer list.
The Trumpf Group is a $2.1 billion company with 57 subsidiaries in 26 countries and 8,000 employees.