Metaio reveals thermal imaging R&D as possible I/O interface for headsets at Augmented World Expo 2014
The Augmented World Expo is one of the major gathering places for companies and researchers working in augmented reality. Held in late May in Santa Clara, the conference is expanding to encompass VR headsets, wearables, the Internet of Things and the focus is to bring IT technology out into the world where it can be put to work or used for fun.
Metaio, based in Germany, is one of the leaders in this evolving business. At this year's show the company teamed with VR headset makers such as Epson, Vuzix, Oculus, and Meta,  to create practical apps for industry. And, as a sort of grand finale, the company's head of marketing,  Trak Lord  demonstrated some experimental technology being developed at Metaio. The company is using thermal imaging in conjunction with augmented reality to create an invisible I/O. Metaio CEO Thomas Alt says the technology turns the world into a touch screen.
Metaio's Thermal Touch interface combines an infrared camera with a standard camera on a device. Right now it's a scary looking Rube Goldberg contraption attached to a tablet, but Alt and Lord say that as mobile devices gain new sensors the addition of an infrared cameras as a standard feature becomes a likely possibility. The Metaio approach proposes glasses equipped with the two cameras, which then solves one of the drawbacks of current glasses systems — there is no easy I/O.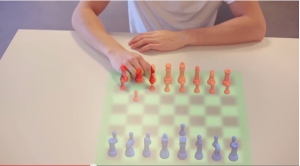 Metaio's idea is to have the two cameras work in tandem on a tablet PC. The system can recognize and register the heat signature left by a person's finger as they touch a surface or object. This allows the person to interact with an object. For instance the Metaio video shows people playing chess or a person interacting with a plastic model. The technology could be a much more convenient replacement for QR codes in magazines and on signs. Metaio sees an immediate application for Thermal Touch as an enabling technology for VR and AR glasses.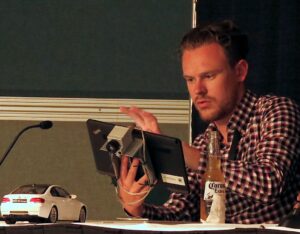 Lord said there is variation in the way different materials register heat. He said plastic is very good at registering heat, some metals may not be as good. The system requires a deliberate touch, in some cases a touch and a press of the finger and this can be an advantage because the system won't react to random touches.
Lord emphasized that that a Thermal Touch system is a long way from being ready for production. One look at the thing makes that pretty obvious. The company is saying 5-10 years. It is a technology that adds one more layer of desire to AR glasses.