The Foundry makes content creation software and it's taking the movie business by storm. It's latest tool, Mari, is a 3D paint tool the company believes will be interesting to any user working with 3D models.
Mari was developed for use with very, very large 3D models like, oh, say a giant blue avatar. The Foundry thinks it might also be useful in applications like industrial design and product marketing.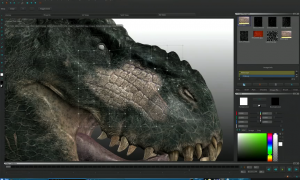 The Foundry has an interesting history. The company was formed around Nuke, a compositor developed by Digital Domain. The creators of Nuke carried on with its development at The Foundry and they have successfully taken it to market. Software engineers and content creators from the movie business run the company, and the barrier between vendor and customer is very fluid.
Like Nuke, much of the Foundry's technology has been developed in the field. They've been working for a year or so productizing Mari, a 3D texture painting technology developed by a team led by Jack Greasley at Weta Digital during the production of Avatar. Greasley has moved to The Foundry to continue development of Mari. Weta Digital also used Mari on District 9 and The Lovely Bones. In addition The Foundry mentions Framestore, Double Negative, Method Studios, Animal Logic, and Digital Domain as companies putting Mari through its paces. And, right around the Siggraph time frame, The Foundry announced a cooperative deal with Disney to integrate Disney's proprietary Paint3D technology into future versions of Mari and in return Disney engineers will sit on a Mari steering committee to advise on the development of Mari.
Among Mari's unique virtues is that the software can handle very large 3D model sets – scaling to over 1 million polygons. It supports textures up to 32K x 32 K pixels, layers and layers and hundreds and thousands of textures per model, it can handle animated geometry and textures. All of which means the software doesn't slow the artist down while working.
The company is hoping to expand Mari's base to the game industry and to product design. The company promises a consistent schedule of product release and feature update.
Mari is a 64-bit product. It takes advantage of the Nvidia GPUs. In the companies requirements suggestions for Mari, they call for an Nvidia board with at least 1GB of RAM and OpenGL 3.0 support, The Foundry suggests systems with at least a quad-core processor, 250 GB disk space for caching and temp files, 4GB RAM and at least a 1680×1050 display.
According to online reports, Mari will be priced at around 500 Euros. A visit to The Foundry site shows a price of £600 for Mari and a year's worth of support. However, the company says they are revamping their licensing strategy.
The Foundry is also working closely with Nvidia to take advantage of GPUs in other products besides Mari. For instance, GPU support greatly improves the performance of The Foundry's Kronos timing technology, which was developed out of The Foundry's Furnace algorithms. It allows video editors to slow down or speed up a clip and it can process the information faster than real time with the new Fermi processors. Kronos is sold as a plug-in for Adobe's CS5.
The Foundry has also announced a deal with Industrial Light and Magic for its Ocula Stereo 3D editing tool that works with Nuke. As evidence of just how valuable stereographic editing can be, Ocula is priced at $10,000. Nuke 6.1 is priced at $3,500.