Downloads of Autodesk's popular iOS app have topped 500,000.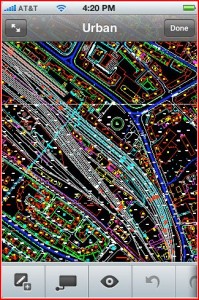 Offline access to drawings has been added to the popular AutoCAD WS web and iOS application, which allows users to share AutoCAD drawings (.DWG files) either to a web site or to an Apple mobile device.
At the recent Autodesk University event at Mandalay Bay in Las Vegas, Autodesk said more than 560,000 copies have been downloaded, with 410,000 downloaders following up to become registered users.
Although users think of it as an iPhone/iPad "app," at its heart AutoCAD WS is an online workspace users access from mobile devices or a desktop copy of AutoCAD. There is no charge for the web-based workspace, which is essentially a drawings repository.
Neither the iOS apps or the web workspace can be used to create new drawings, it is only for review, markup, and rudimentary edit.
New features in AutoCAD WS version 1.1 include:
Offline support: Designs can now be viewed and edited from mobile devices, without the need for Internet connectivity. Autodesk says this was the most frequently new feature.

Direct file uploads from an iPad: Users can now open an email attachment of a drawing and upload it to an AutoCAD WS account directly from their device.

Simplified gesture interface: Editing, drawing and markup has been enhanced to be more intuitive and similar to AutoCAD.