Bentley System recently announced its Top 500 Owners in Infrastructure list. The list was compiled by Bentley using financial reports and third party research.
Similar to  McGraw Hill's useful "Top" lists for design and engineering firms, the Bentley Infrastructure list provides a picture of the total infrastructure industry, which if you count the top 500 companies, is responsible for $13 trillion in U.S. green. The list can be downloaded at http://www.bentley.com/500/ .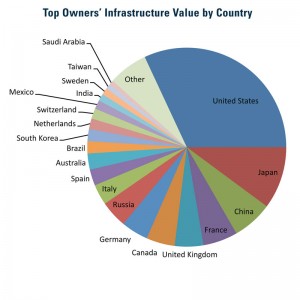 According to Bentley's list, the U.S. dominates the Top 500 with 166 owners earning $4.2 billion in revenues.
United States – 166 Top Owners, $4,241.1 billion
Japan – 58 Top Owners, $1,349.2 billion
China – 29 Top Owners, $869.6 billion
France – 22 Top Owners, $747.2 billion
United Kingdom – 23 Top Owners, $617.8 billion
The survey found that private and public instrastucture owners are well represented but the private sector is considerably larger and accounts for over $9 trillion in revenue. Of the top 500, 359 companies are private-sector organizations.
The top 10 owners in the Bentley Infrastructure 500 and the value of their respective infrastructure are:
United States Government, $282.7 billion
Electricite de France SA – EDF, $186.4 billion
Gazprom (Russia), $161.8 billion
PetroChina Company Limited, $155.9 billion
Exxon Mobil Corporation, $139.1 billion
Petrobras (Brazil), $132.2 billion
Royal Dutch Shell Plc, $129.1 billion
United States Department of the Army, $122.1 billion
Enel Spa (Italy), $113.9 billion
Nippon Telegraph and Telephone Corporation (Japan), $107.8 billion