DreamWorks Animation SKG uses HP Z800 workstations and physics simulation tools for maximum impact. One scene took more than 7 million render hours.
Kung Fu Panda 2,  now in theaters from DreamWorks Animation SKG, pushed the behind-the-scenes digital technology envelope in several directions.
For its last several releases DreamWorks animators have been using HP workstations exclusively. For KFP2 the animation staff used the current generation of HP Z800 workstation, capable of running with dual quadcore Intel Xeon CPUs.
The original Kung Fu Panda film, released in 2008, used more than 50 terabytes of data and required nearly 25 million render hours. With the switch to stereoscopic 3D and the ever-escalating demands of filmmakers, Kung Fu Panda 2 used 100 terabytes of data and required more than 55 million render hours. One render hour means 1 hour of processing time on one CPU core. An 8-core (dual quadcore) computer can do 8 render hours in one hour. DreamWorks must have farmed out much of the final rendering to outside render farms, but does not discuss such arrangements.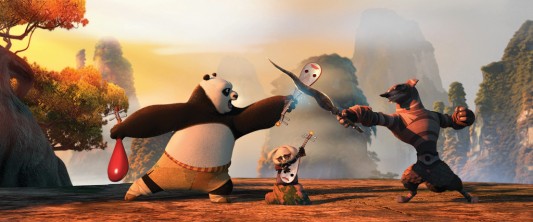 Before the tech stuff, here's the story line. In KPF2, Po (voiced by Jack Black) is living his dream as The Dragon Warrior, protecting the Valley of Peace alongside his friends and fellow kung fu masters, The Furious Five. Po's new life of awesomeness is threatened by the emergence of a villain, who plans to use a secret, unstoppable weapon to conquer China and destroy kung fu. Po must look to his past and uncover the secrets of his mysterious origins; only then will he be able to unlock the strength he needs to succeed.
A large studio like DreamWorks Animation uses these blockbuster franchises to advance their state of the art, then takes advantage of them in films with less potential payback to lower costs. In KFP2 new technical achievements were required to produce character effects like fur, feathers, cloth and armor, that fill the entire KFP2 world, not just limiting visual richness to the main characters.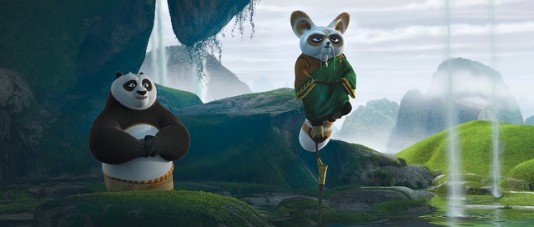 For example, when a cannonball hits water in a key battle scene, a big splash is generated to emphasize the power of the impact. For the close-up shot, an FX artist used specialized, proprietary Dreamworks software to render more than10 million particles.
KFP2 is the first DreamWorks Animation film to use dynamic, physics-based crowd characters, such as the wolves, villians in the story. The wolves engage in a kung fu battle with Po and The Furious Five, and are able to dynamically react using a proprietary DreamWorks Animation kung fu physics simulation tool. One of the wolves gets hit with 1,220 peaches, which in the real world would weigh 457 pounds and be travelling at 105 miles per hour. Using a new proprietary physics engine, DreamWorks rendered the scene to real-world accuracy. The energy force is the same as getting hit by an automobile traveling at 45 miles per hour.
During a scene when a tower is destroyed, there are more than 50,000 splinters and small pieces of debris produced. The final battle sequence of the film, which takes place in the harbor and canals of Gongmen City, is calculated to contain more than 60 million gallons of water. The scene required the most intensive computational graphics work of the film and more than 7 million render hours were consumed to produce 14,000 frames.