The role of integrated graphics in workstations is very limited today, but it will inevitably grow over time. Commentary by Jon Peddie Research analyst Alex Herrera.
By Alex Herrera
In years past, the use of integrated graphics for workstations was purely incidental, a mere by-product of the workstation OEMs' desire to drive down prices and increase interest in professional platforms. Intel, likewise, has been happy to see its graphics in the workstation market, but addressing the workstation market with integrate graphics has not been a strategy for Intel … until now.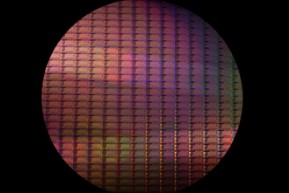 Today, the situation is different. Intel is making a very conscious push to spread the company's reach in graphics and — if at all possible — put a damper on now-rival Nvidia's near-stranglehold on the professional GPU market. Intel may not have known—or even cared—about the role its integrated graphics could play in workstations just a few years ago, but it does now. And with its Sandy Bridge CPU line launched in the market, they hope to kick-start a trend in workstations: pushing out higher-performing discretes in favor of "good-enough" graphics. It has worked for Intel in the mainstream PC market.
In 2004 Fujitsu-Siemens leveraged Intel's 915G (Grantsdale) chipset—intended primarily for mainstream desktops and notebooks—to pitch the lowest entry-level price tags for workstations, ever. Fujitsu-Siemens was thus the first top-tier OEM to ship a workstation model with integrated graphics, At the time, the strategy was Fujitsu's, not Intel's. There was good reason to ignore the opportunity, of course. Intel recognized that Grantsdale—and all subsequent chipset-integrated graphics—couldn't deliver the performance and functionality workstation buyers had come to expect.
In retrospect, early incarnations of integrated-graphics capable workstations proved mostly a marketing opportunity to boast lower introductory prices than the competition, rather than a serious attempt to displace discrete GPUs from Nvidia and ATI. Just because Fujitsu's Celsius W series could ship with chipset-integrated graphics didn't mean they did. The company has always reported a very high discrete GPU attach rate. Clearly, the bulk of professional buyers knew what Intel did: integrated graphics was a very cost-effective fit for mainstream use, but the technology was not mature enough for workstations. But now, almost seven years after its chipset-integrated graphics made its initial appearance in the workstation market, Intel is ready to declare the time ripe with its latest incarnation of integrated graphics, and the company is branding and marketing its new parts in precisely that manner.
After a much-publicized (though all things considered relatively minor) hiccup post-launch due to a reliability defect, Sandy Bridge has arrived. The company's first monolithic die-integrated CPU with on-board GPU, Sandy Bridge came out of the chute with initial SKUs bearing the Core iX and Xeon E3 brands. Focused on entry-level, single-socket-only applications, Sandy Bridge found workstation homes first in mobile and low-end deskside models. But this time, Xeon-branded SKUs are hitting the market with Intel purposely shaping and marketing its graphics capabilities (the "P" in Intel's Xeon E3 integrated P3000 graphics brand standing for "professional") to serve workstation applications.
Why the shift?
Why the shift in Intel's marketing position for integrated graphics this time around? Well, Sandy Bridge has delivered another significant jump in performance, in large part due to the synergy in populating both CPU and GPU on the same die (e.g. the GPU gets to share the CPU's huge L3 cache). Now, neither Intel nor I claim Sandy Bridge graphics can serve the graphics demands for any more than a minority of the professional base. But it is a substantially more capable performer than its Westmere predecessor. Thanks to ISV certification for key applications like AutoCAD and Adobe CS4, Sandy Bridge is going to satisfy a few more buyers in the workstation market. Still, the overwhelming majority of the broad professional user base—and the vast majority of CAD pros—will still be running with discrete graphics hardware bearing Nvidia's Quadro or AMD's FirePro brands.
But there is another role integrated graphics can serve today, and it has nothing to do with delivering performance to replace the discrete GPU. Instead, integrated graphics can deliver low power consumption to complement discrete power. Because not only do Sandy Bridge platforms support discrete GPUs (multiple ones even, with Nvidia SLI support), but they support dynamic switching between internal integrated graphics and external discretes, depending on the current performance demands and/or power constraints. "That switching capability is precisely the reason workstation OEMs are leveraging Sandy Bridge first in mobile workstations (like Lenovo's W520 and Dell's Precision M4600 and M6600), pairing the graphics-enabled CPUs with mandatory Quadro or FirePro motherboard GPU modules." [Editor's Note: See also the GraphicSpeak article, "Intel Sandy Bridge CPUs make first HP appearances."]
Nvidia rolled out its Optimus technology for workstations in conjunction with Intel's launch of Huron River (the name of the Sandy Bridge platform for notebooks), to allow its customer OEMs to populate both. Optimus on mobile workstations acknowledges the fact that hard-core graphics pros aren't doing hard-core stuff all the time. It's not like professionals want to run AutoCAD for every minute of a 6-hour coast-to-coast flight, even if their batteries allowed it. They're not going to spend their whole flight editing videos, or putting filters to work in Photoshop either. But, with Optimus, the Quadro GPU is powered and ready to go when performance demands, but when it's time to toss in a DVD or read emails, Sandy Bridge's processor graphics can take over, saving the system considerable power and extending battery life.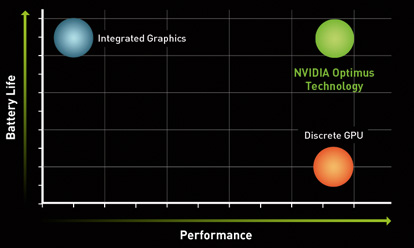 To date, integrated graphics' role in workstations has been negligible, due to its often-severe drawbacks in performance and functionality. But with the capability of integrated graphics constantly improving, it will no doubt take on a broader role, serving a larger and large percentage of the customer base moving forward. And in the meantime, integrated graphics processors have got a valuable role to play sharing the graphics burden with discretes on mobile workstations.
Alex Herrera is a contributing analyst for Jon Peddie Research