Live beta demos are running at Autodesk University.
Allegorithmic has unveiled the public beta of Substance Plugin for 3ds Max at Autodesk University 2017. It also announced integration of Substance Source, Allegorithmic's library of physically based materials, into 3ds Max.
Substance Plugin for 3ds Max claims to have improved performance, new UI, increased resolution to 8K.
Substance plugin has been completely redesigned and built on Substance Engine technology. 3ds Max users can now avail increased number of features. The Substance plugin runs on the latest version of Substance Engine. As a standalone plugin, Allegorithmic will be able to update the product faster, ensuring that 3ds Max users get updates at the same time as the rest of the Substance Designer community.
The plugin allows users to open and edit Substance files. Resolution of 8K provides users with enhanced visual quality when creating high-end renderings.
"When we started this process, we were dealing with an outdated version that didn't reflect how far our technology had come in recent years," said Dr. Sébastien Deguy, founder and CEO, Allegorithmic. "We wanted to change that, and change it soon. With this new plugin, that gap has been filled, turning a great tool into the powerhouse the rest of our users know and love."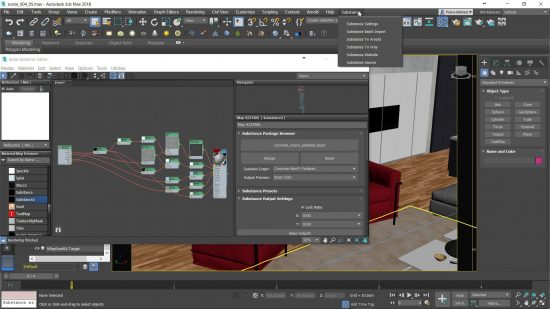 Redesigned UI offers following features:
Sliders and color-coded mouse-over effects
Batch importation
Preset management and support
One-click material creation for V-Ray and Arnold
Autodesk will also be integrating Substance Source into 3ds Max. Users can search Substance Source using Autodesk's asset library plugin to browse more than 1,200 materials for architecture, design, visual effects, and game-related projects.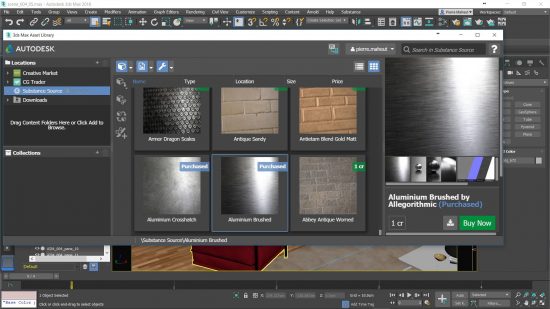 For video walkthrough of Substance Plugin for 3ds Max is available on YouTube.
Pricing/availability
Substance Plugin for 3ds Max 2018 is available now as a free public beta for Windows users. Substance Source files can be accessed through a Substance subscription. Subscriptions to Substance Indie cost $19.90/month; Pro plans cost $99.90/month.