Change is coming but not yet.
Last year at Siggraph, Allegorithmic had their Substance days and wow'd a packed crowd of fans. Since then, Adobe has bought Allegorithmic, a long-time innovator in procedural textures. So far, Allegorithmic's technology lives in a privileged space for Adobe's creative tools. It's still separate from most of Adobe's content creation tools and sold to professionals in the gaming and content creation industries, but its textures are also used in Adobe's Dimension product.
The Substance products for creating materials are professional tools that are licensed to professionals according to the size of their company. An indie license for people and companies making less than $100K is $20 per month or $239 per year—not at all horrible, but it's not part of Creative Cloud family of subscription products which are around $50 a month so it's a leap for many people to add on. The pro licenses start at $100 per person per month. Both plans include a wealth of products and options for 3D painting, material creation, image-based material creation, etc. The pro plan offers additional options including access to photo-based material libraries.
Adobe has big ambitions for the Allegorithmic technology married to its own work in 3D. The goal, they have said, is to create tools for immersive 3D and we're assuming that they're going for 3D in a way that breaks with traditional approaches and opens up 3D to artists more used to working with Adobe's creative tools. Adobe has been steadily adding 3D awareness to its core tools: Photoshop, Premiere, and After Effects; it also offers Dimension, which is sort of 2D/3D tool.
This is crazy, right? It's an example of what people can do with Substance. This is work by Emrecan Cubukcu called Advanced Village Material, and it's a winner of the Substance insanity award for 2018.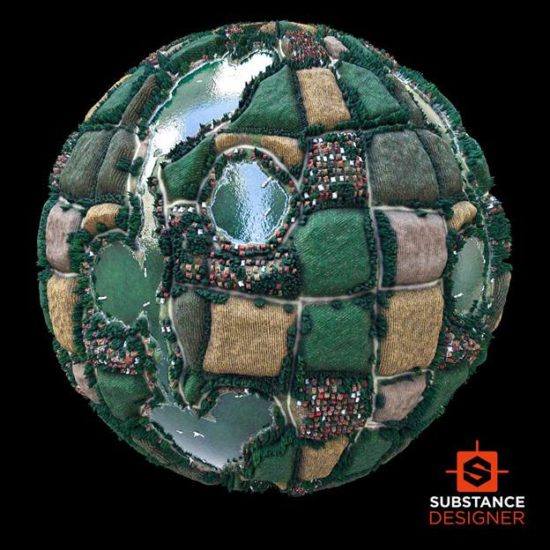 Allegorithmic founder Sebastien Deguy is now the president of Adobe's 3D & Immersive group. He talks about Substance's tools working as a 2.5D procedural tool because talented users are able to create textures with depth using Substance, which they can then add to a very simple shape or surface.
Substance Painter is a 3D painting tool and is compared to the Foundry's Mari, but they're different in that Substance Painter has its roots in game development. It's designed to be lightweight and straightforward. Mari comes from the TV and movie industries and it comes with loads of options and it's powerful, but also difficult to learn. The two are sometimes used together.
As a plug-in, Substance is used with all the major 3D content creation tools and it inspires a sense of play. It's safe to assume that Adobe will maintain the business that Allegorithmic has built, but how everything fits together hasn't been revealed yet.
Adobe at Siggraph
At the Siggraph Substance Days, the team was able to toss the excited and very dedicated Substance community several bones they've been begging for.
Number one has been UDIMS for Substance Painter. Substance showed the work they've been doing on this front by demonstrating painting across UV tiles. We got there late, but we have been assured there was swooning.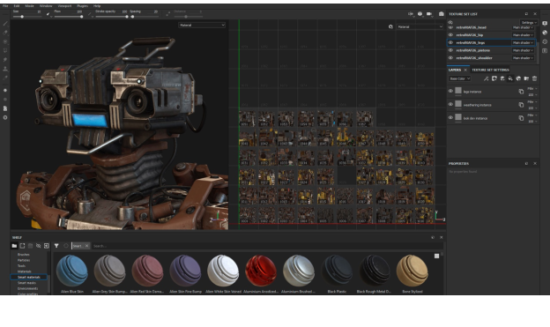 They showed texturing from one UV tile to another on a file imported from Foundry's Mari and also the creation of a new project using Substance Painter with UDIMs. These features are available in closed betas but they promised more information later in the year.
Project Anaorigami promises to make painting easier by automatically unwrapping UVs. All three parts of the UV process, segmentation, unwrapping, and packing, will be automated. The Substance team says they've developed APIs to ensure high-quality UV creation.
In the meantime, the latest release of Substance Painter features performance improvements including bakers that are 193 times faster, 40 new smart materials and 20 new smart masks and also new scripting tools.
In the new Substance version that's just coming out, there is improved material management and an improved delighter filter. If you're going to use photos to create textures, you want the lighting to be flat—no highlights, no shadows, hence delighter. (I thought it just made you happy.)
The viewport has been improved with support for Anisotrop and Clearcoat in the OpenGL view.
Interface improvements make working within the node interface easier with streamlined node dropdown menus.
Other work going on within Substance is based around photo-based textures and the process of capture. They're looking at enabling using multiple images to make the capture process easier and a little more forgiving.
MaterialX was all over Siggraph this year and Adobe is embracing it as well. Honestly, it's what the 3D content creation in design and M&E has been waiting for. MaterialX was developed by ILM and Lucas Film as an open standard for transfer of rich material and look-development content between applications and renderers. This year, it has been improved with a new set of PBR shading notes, new operator nodes, USD-compatible geometric properties, look groups, and more. Substance has supported MDL and Adobe has its own version of Adobe Standard Material based on MDL. The arrival of MaterialX promises more flexibility and cross platform support for materials in the Substance tools and Dimension, but nobody is making any announcements on that front.
Finally, they're adding new materials to Substance Source, the group's library of high-end materials for professional use. They're adding more than 400 new procedural materials for architecture, bringing the total to 600 customizable materials for interior and exterior architectural models.