But the company is evaluating its go-to-market options and planning future development.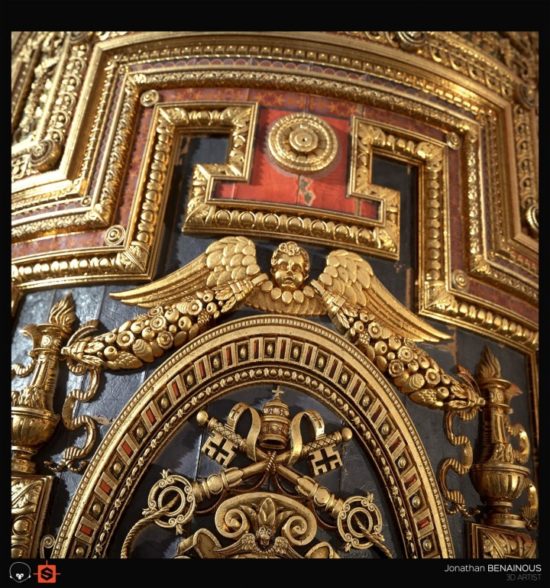 Adobe announced the acquisition of Allegorithmic, a leading provider of materials and procedural material development tools, in January 2019. Since that time, the two companies have not had much to say about their plans. At Adobe Max this year, the picture became a little clearer, but not entirely. Adobe is working its way through the productization of Substance and through the kinds of 3D products its customers will want.
However, Adobe did use Max as the occasion to announce that Substance has officially joined the Adobe family. Substance materials can be found in Adobe apps including Dimension, and the newly introduced AR application Aero. Also, Adobe is inviting people to visit the Substance Source website and download materials. At the same time, during their analyst presentation at Adobe Max, the Substance team admitted there are complexities involved in offering Substance as a part of Creative Cloud.
That's because Substance is complex. For one thing, it's not one product, it's several, and it's available as a plugin to other companies including Adobe, but also Autodesk, Epic, and Unreal. At its heart, Substance is a tool for creating textures for 3D content and, as such, it is a new piece of the 3D puzzle Adobe is very carefully assembling. The company introduced the Substance team to analysts at a meeting at Max.
As CEO of Allegorithmic, Sébastien Deguy originally developed the Substance tools as part of his work for a PhD in Mathematics at the University of Clermont-Ferrand. Now, he's vice president of Adobe's new 3D & Immersive division. He says the group is being built with people from Adobe and Allegorithmic. During the meeting, the group talked about the ways in which they're using Adobe's technology to further develop Substance. For instance, they are using content-aware fill to perform seam-removal of textures.
Substance textures are widely used in the game industry and they're being increasingly picked up by people working in other 3D fields including design and architecture. Originally, Substance was developed for textures that never existed and they were developed to enable realistic realtime rendering for games. Now, of course, the whole world is moving towards realtime and the Substance team is seeing their tools used quite a bit for industrial design and also in the AEC industry. Not long ago, they began developing tools to recreate real world materials so designers can access the exact color of a red leather car interior, or a gold lamé tennis shoe.
Adobe believes that making Substance available as a tool in the Adobe family will further its use and, in fact, they say they've seen a dramatic uptick in interest in Substance since the acquisition, but Substance also gives Adobe a further foothold in 3D. The company already has considerable 3D development with Aero, Dimension, Fuse, Mixamo and long before that features in AfterAffects and Photoshop. It seems obvious that Adobe also has an interest in becoming further integrated in the worlds Substance already lives in.
The basic parts of Substance are:
Substance Painter: A 3D paint tool, which enables users to add layers of materials to 3D objects. Already using a layer-based workflow, Painter is being updated to be consistent with Photoshop. It features Smart Masks and they're working on new brushes. Painter also supports Particles, which can interact with models with real-world behaviors. For instance, particles can be used to add a material that drips on like paint.
Source: A library with over 1,800 full customizable materials. Users can download source materials and generate variations on those materials. Source is already available in third party programs. And Adobe is inviting people curious about Substance to have a look at Source and also play with the Substance materials available in Adobe Stock.
Alchemist: Substance's materials creation tool, which lets users mix and tweak materials, and make new ones from photograms and high-res scans. It's specialized for situations in which real-world scans are needed. The Substance team says Alchemist is designed to be easy to use.
Designer: A professional-level tool for materials authoring. Users can create tileable textures and patterns, and edit texture sets. Designer lets users take advantage of Substance's scripting tools, use its node-based environment, or create from scratch.
Although it's not clear how all of Substance's tools will be made available to Adobe's creative users, Deguy told analysts Substance's tools are going to fit in with Adobe's flagship products. At Adobe Max, the company talked about how they've got an ongoing effort to make all their tools work more alike and look more alike wherever possible. They talked a little bit about Spectrum, their design system that provides consistent tools and components for product design. Deguy said that the process has been helpful for the Substance team because there were already similarities in the way the two companies' products work.
We know there are plenty of people anxious to have access to the Substance tools, but for many of them, they have a new option and so people will not want to pay more than they're paying for the full subscription, which is now at $52.99 a month.
What do we think?
There's not much doubt that Adobe has a whole lot of 3D technology. It has hired and bought some of the best 3D technologists in the world and the company has gradually added 3D capabilities to its flagship creative tools as well as creating Dimension and Aero.
Meanwhile, the Substance team has been working in the 3D gaming world to create materials for game developers that add richness but save polygons. As the company has become interested in recreating real-world materials, the tools started making a lot of sense in video and photography. It's inevitable, Substance would pop up on Adobe's radar; they're their leaders in licensing textures and materials. Also, their development tools encourage experimentation and play with an attitude that fits right in with Adobe's desire to foster creativity.
Yes, Adobe intends to build a complete 3D toolbox, whatever that might be. But the company seems to be building it from the inside out. We believe Adobe will continue to build 3D with a sensitivity for the artists working in 2D.
Read more…
Adobe Substance at Siggraph, steady as she goes
Introducing the 2018 Substance Designer Insanity Awards!