Adding independent validation of model-to-PDF conversions will improve the ability to extend engineering data in the organization.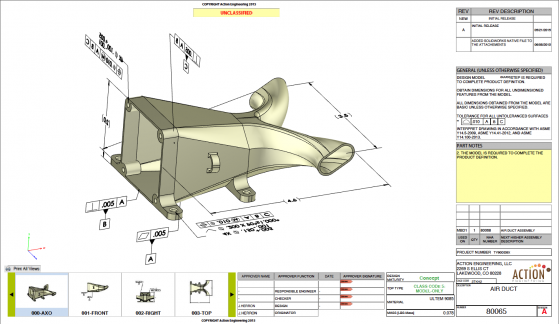 Industrial 3D visualization specialists International TechneGroup Incorporated (ITI) and Anark Corporation have formed a strategic partnership to serve manufacturers' technical document publishing and validation needs.
Manufacturers, especially those transitioning to Model Based Enterprise (MBE) processes, want the ability to generate production-quality 3D PDF model-based documents and technical data packages that provide suppliers and downstream consumers with detailed engineering and manufacturing information required. Automated validation of this technical 3D PDF-based content is key for successful MBE implementation. Anark provides a recipe-driven publishing automation platform, Anark Core, for transforming source data and publishing 3D MBE documents and content; ITI provides a CAD validation solution, CADIQ.
3D PDF documents published by Anark Core are "100% native," ISO compliant, and can be opened by Adobe Reader software. The documents may include 3D product visualization together with product-manufacturing-information (PMI) annotations, structured tabular and attribute data from multiple sources, and numerous related files and attachments to form comprehensive technical data packages (TDPs). CADIQ from ITI is a vendor-neutral, CAD model validation tool that allows users to interactively test model geometry and PMI for errors and variation.
When a precise semantic MBD model created in a design system is converted into a graphical visualization model (such as the ISO Standard PRC format contained within 3D PDF), it is more than a translation, it is a transformation. According to ITI's CAD Validation Specialist, Doug Cheney, "A validation tool that works in concert with the Anark transformation and publishing system can reveal if something unexpected has happened in a particular model during a transformation, adding tremendous value for the customer. ITI understands expected differences in the 3D PDF in advance of validation, and can provide the customer with a true, third-party pass/fail assessment if there are any unexpected differences. This partnership offers customers a valuable safety net."
Anark and ITI share customers across the aerospace & defense, energy, transportation, communication technology, and medical device manufacturing sectors. Both companies are currently engaged in joint customer projects, with more expected in the coming months.
As part of the agreement, the Anark and ITI product teams are working closely to ensure their respective products and technologies are working in harmony to serve the needs of their mutual customers.