The new design-to-print workflow automates the process of preparing 3D models for printing and accepts major CAD program formats in addition to STL.
Stratasys has unveiled its long-awaited repurposing of GrabCAD, which it acquired in 2014, with today's announcement of GrabCAD Cloud. Stratasys says GrabCAD Cloud will speed time-to-print significantly, by focusing on the pain points common to the process using existing technology.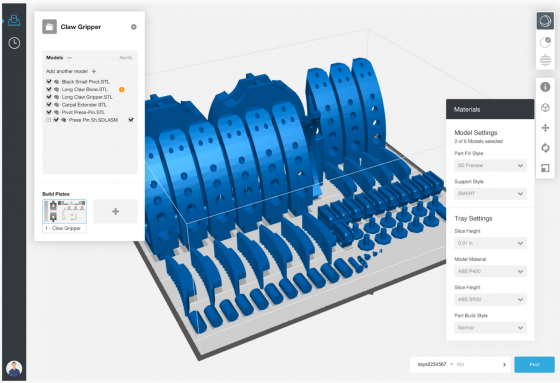 Current 3D printing techniques are typically characterized by significant "model fixing" time; just because something is designed in 3D CAD does not automatically make it ready to be 3D printed. Most users of 3D printing have come up with manual solutions or a multi-step, multi-product workflow. Stratasys says GrabCAD Print automates this workflow by eliminating requirements to translate and repair CAD files. GrabCAD internalizes these steps and eliminates the use of STL as the common language for 3D printing. 
The product will be released for public beta testing in North America in the third quarter of 2016, and is scheduled for commercial release before the end of the year. Stratasys is not ready to talk about pricing issues, but says GrabCAD Print will be a commercial product, not a loss-leader for selling printers.
Because GrabCAD is designed as an open platform, not partial to any particular CAD product, the leading CAD vendors are collaborating with Stratasys to further simplify key functions in CAD-to-3D print workflow. Users will be able to access Stratasys 3D printing solutions, analyze designs for 3D printability, and prepare and print jobs from their native CAD environment. As with existing GrabCAD products Community and Workflow, Print will be cloud-based, accessible from any compatible browser. The program will ship with an application programming interface (API) other vendors can use. 
GrabCAD Print will work with a variety of Stratasys FDM and PolyJet 3D Printers. Using GrabCAD existing interoperability technology, it will natively read several commonly used  3D print formats including PTC Creo, Dassault Systèmes Catia and SolidWorks, Siemens PLM Software NX, and Autodesk Inventor. GrabCAD Print will also facilitates data sharing related to job scheduling, print queue status, material usage and historical usage. All information will be readily available via standard Web browsers, mobile applications, or locally installed clients, securely managed through the GrabCAD platform. Stratasys says they are building APIs to enable other printer companies to participate and for 3rd party programs. During an investor call, company executives Jon Stevenson (SVP global strategy) and Paul Gianconio (VP software),  said the company is building APIs to enable the vendors of other 3D printers and will work with them to make GrabCAD Print a more universal solution.