The new Fortus 250mc combines affordability and simplicity of the Dimension 3D line with the flexibility and control from the Fortus line. Experienced additive fabrication users are the target market.
Stratasys today introduced the Fortus 250mc Production 3D Printer, a rapid prototyping and production machine that combines design elements from two Stratasys lines, the Fortus professional class and the low-end Dimension 3D line.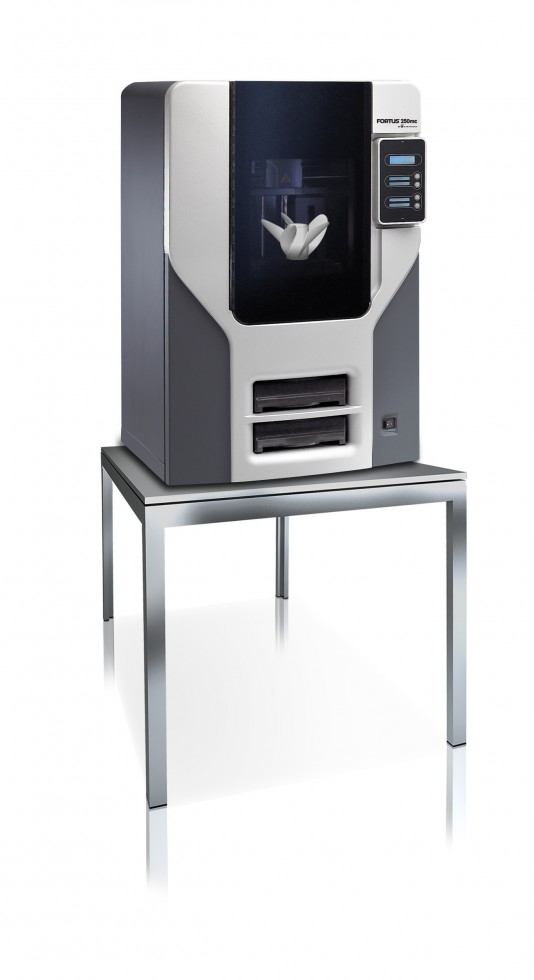 The Fortus 250mc has a 10 x 10 x 12 in. (254 x 254 x 305 mm) build envelope and offers three build layer options: 0.007, 0.010 and 0.013 in. (0.178, 0.254 and 0.330 mm). To create parts, the machine uses ABSplus thermoplastic, which offers superior mechanical proprieties, including impact strength, tensile strength, flexural strength, and bonding strength for tough, functional applications. ABSplus comes in ivory, white, blue, fluorescent yellow, black, red, nectarine, olive green and gray colors.
The Fortus 250mc uses Stratasys SR-30 soluble support material, which has a faster dissolve time than other soluble support materials.
The printer includes Stratasys' Insight Software, used to drive its industrial-class 3D printers. Insight allows users to have added control over build speed, part accuracy, and feature detail. Like all Stratasys additive manufacturing systems, the Fortus 250mc is based on the Fused Deposition Modeling process.
What we think
The target market for this new printer is traditional 3D printer candidates looking for more sophisticated control over build parameters. The most common setting for this printer will be in shops moving from prototyping to using 3D printing for the building of functional manufacturnig tools, like fixtures and jigs.