In 2007 Dassault Systèmes introduced 3DLive, a revolutionary approach to creating and viewing digital mock-ups. From the archives of Engineering Automation Report comes the first review of this landmark product.
By L. Stephen Wolfe, P.E.
Engineering Automation Report, June 2007—In the history of engineering software, only a handful of big ideas have changed the way engineering and manufacturing people work. These included numerically controlled machine tools, Fortran, the finite element method, computer-aided drafting based on the model of Ivan Sutherland?s sketchpad, and wireframe-and-surface modeling commercialized by Pat Hanratty?s ADAM software.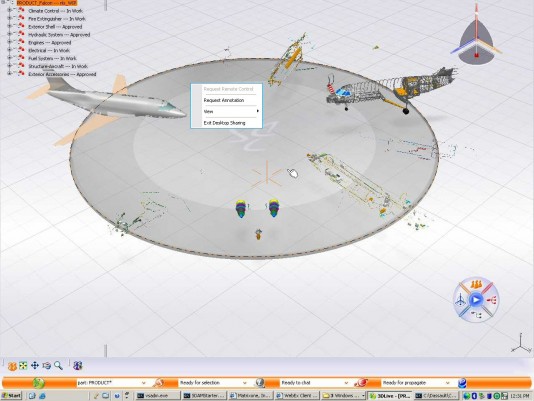 The last big new software idea that changed the way engineers work was the rollout of Pro/Engineer at the 1987 Autofact exposition. Sure there have been improvements since then. Windows 95 brought affordable 32-bit systems to engineers? desktops. SolidWorks and Solid Edge established new price points and distribution models for technology that conceptually resembled Pro/E. Autodesk?s Inventor has set records for unit shipments. But none of these events fundamentally changed how engineers do their jobs.
On April 30 at the annual Catia Operators Exchange Spring conference and Technifair, Dassault Systèmes announced the first commercial product that may represent the next technological change in engineering software that fundamentally alters the way we work. Like solid modeling, computer aided drafting, and numerically controlled milling, Dassault Systèmes 3DLive and technologies like it could fundamentally alter the way designers, engineers, manufacturing and construction workers, and service technicians store, organize, and use information about the products and structures that define our modern world.
The solid-modeling methods that Pro/E first made practical work well for products that are small enough to carry. When applied to large, complex products, such as automobiles, aircraft, commercial buildings, and industrial plants, desktop modeling methods become cumbersome. One individual can?t design all of a product as complex as these. It takes teams of people working simultaneously, and today?s desktop systems don?t support design teams as well as they could.
For complex products, manufacturers have resorted to technologies such as "virtual mockup" software. These products, pioneered by companies such as Division Limited and Engineering Animation, have been on the market for more than 10 years. Virtual mockup software extracts relatively compact surface models from solid CAD systems and allows users to assemble them into mockups that would otherwise be too big to fit on a desktop.
Virtual mockups have helped engineers discover interferences between parts of complex products and make corrections to their designs well before subsystems are fabricated and installed. Savings from virtual mockup technology have probably amounted to hundreds of millions if not billions of dollars over the last decade.
The trouble with mockups
The drawback to existing virtual mockup technology is that it presents a static view of the product model. Virtual mockups must be assembled for a design-review meeting. Immediately thereafter they become out of date as designers make changes in response to the review. When the model must be reviewed again, a new mockup must be assembled.
Software companies and sophisticated customers have automated the process of assembling mockups so that it can be done overnight with relatively little human intervention. Nevertheless, the static nature of mockups makes them less than ideal.
In the days when engineers worked on physical mockups instead of computer models, communication among them was, in some ways, better. People looking at the prototype could immediately see the entire design in context. For instance, the electrician could see immediately that he couldn?t route a cable tray as it was shown on his drawing because a large piece of machinery was in the way. On modern construction sites, workers typically resolve interferences by looking at what?s in place, talking with each other, and working out interferences on the spot.
The trouble with hand-crafted physical prototypes is that they require all designers to be present in one location. Today teams from around the world collaborate on the design of complex products and structures without ever meeting face to face. What is needed is a computer system that enables these workers to enjoy the immediacy and completeness of the physical prototype while taking advantage of the fast communications and ease of making changes afforded by computer graphics and the Internet.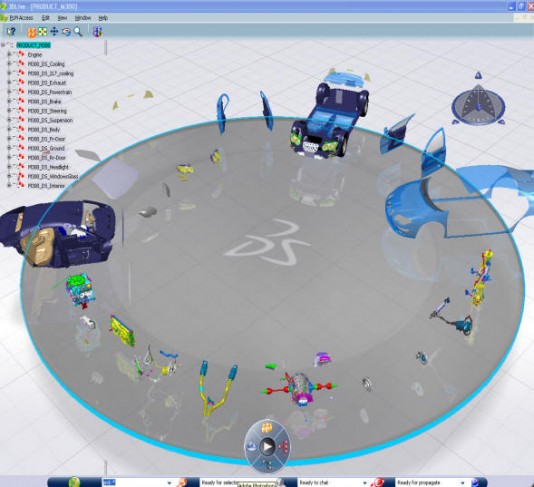 The 3DLive vision
3DLive is, in part, Dassault Systèmes? first attempt to answer the needs of its customers for a better virtual prototype. Unlike virtual mockups, 3DLive maintains a lightweight database of graphic elements that is continuously updated by one of the Enovia product-data management systems. Each time a worker checks in a revised part or assembly, the PDM system generates a compact, faceted model of the geometry in CATIA?s CGR format. This CGR model is then stored in the 3DLive database where it is accessible by users of the system. 3DLive also can store all the metadata associated with each part, including part numbers, names, supplier information, and costs, if available.
To view models, customers must have a small client program installed on their computers. The client employs an innovative user interface that displays models on what looks like a turntable. Customers can explode views of product assemblies, spreading them around the turntable to display internal components. The client also can display views of the product structure in a tree-like hierarchy.
Bernard Charlès, Dassault Systèmes chief executive, envisions that 3DLive will provide people who don?t normally use CAD systems with an efficient way of interacting with product data. Instead of searching for product information by part number or other written attributes, 3DLive will enable people such as purchasing agents, product planners, and service technicians to retrieve product information by selecting the desired part in a graphic 3D model. He argues that this method is more natural than the PDM interfaces we have today.
In a skit at the opening COE session, Charlès pretended to be the Chief Financial Officer of Dassault Aviation. He used 3DLive to zoom in on the cockpit of a Falcon jet aircraft and retrieve cost information about parts that were over budget, according to the story line. Pretend program managers collaborating with the CFO used 3DLive images to explain why costs had risen. When the program managers asked for a budget increase, Charlès said, "No, you must redesign to meet the budget," which got a laugh from the audience.
Product pricing
Dassault is offering versions of the 3DLive software for use with its Enovia VPM and Smarteam PDM systems and the Delmia PPR Hub. License fees are based on the number of clients that use the system. There are no additional charges for server software. The primary license charge (PLC) for the Enovia VPM and Delmia versions of 3DLive is $1,000 plus 15% annually for upgrades and support. The Enovia Smarteam version carries a PLC of $480. Customers can also license 3DLive clients for a recurring charge of $40 per month with no up front fee. Volume discounts apply to these prices.
Dassault Systèmes also plans to offer more elaborate versions of 3DLive that offer capabilities in addition to basic viewing. These may include:
Enovia Collaborative Review that includes the capability for marking up 3D models.
Functional Tolerancing and Annotation Review for Catia V5.
Delmia Live Shop-floor Review to examine factory simulation models.
Jumping the gun
A May 2 press release announced the immediate availability of 3DLive, but demonstrations at COE suggest that it isn?t yet ready for serious evaluation. In the initial release, the only way to find and display parts is by navigating the product structure tree. 3DLive won?t let customers "fly through" products or select exterior surfaces and hide them in order to show the internals of complex machinery.
An "advanced CGR" format designed to make models even smaller while preserving good visual characteristics isn?t finished. Nor can one connect 3DLive to a VPN system for Catia V5. Only a connector for the V4 version of VPN is ready at this time. Dassault representatives said that these additional capabilities will be incorporated in the next release of 3DLive planned for June 2007.
Unanswered questions
3DLive is an interesting concept, but the initial product announcements and demonstrations raise more questions than they answered. For example, the models set up for the 3DLive demonstration had only one configuration. The bills of material for most products contain multiple options, not all of which can be installed simultaneously. It wasn?t clear from any of the demonstrations how 3DLive users would navigate visually through product models with multiple options or how they would select the options they want to see.
Customers I spoke with also wondered aloud how they would keep the 3DLive data synchronized with all the other databases in their companies. For example, cost information typically resides in the manufacturing-resource planning (MRP) system. How would 3DLive fetch this information? Setting up links between MRP and other systems is costly and there?s much that goes wrong in practice.
An even more fundamental question is whether 3D viewing is appropriate for everybody. Speaking at the May 1 COE keynote session, consultant David Prawel observed that according to the Johnson O?Connor Research Foundation, only 30% of people can comprehend 3D images on 2D screens well. Another 30% can?t make sense of 3D images on flat screens at all. The remaining 40% fall within these extremes. Most folks in engineering, design, and manufacturing probably have good aptitudes for 3D perception. However, many clerks, managers, sales people, and purchasing agents may not. Is 3D the best way for these people to navigate product data?
The right architecture?
Based on the relatively sketchy information released about 3DLive, it isn?t clear that Dassault Systèmes has chosen the right architecture for its new product family. The client-server model requiring special software on each PC is rapidly giving way to Web services that require no special software. 3DLive caches complex models on each user?s personal computer. Information distributed on thousands of machines can be hacked by people determined to get a look at the next generation car or military aircraft.
Dassault Systèmes representatives say they have put security precautions in place to prevent unauthorized use of data, but security software is generally aggravating to both users and system administrators. And what happens if programming errors or faulty networks prevent 3DLive from properly synchronizing the local model store with the server? A customer could view information that?s out of date without realizing it.
3DLive?s choice of faceted representations have the potential to cause still more problems. 3DLive models generated with relatively coarse facets don?t look good. Increasing triangle counts boosts image quality but may overload client systems.
There are other highly scalable architectures that allow people to view very complex 3D models without any client software or local caching of 3D data. Mental Images? Reality Server is one example. (See www.realityserver.com.)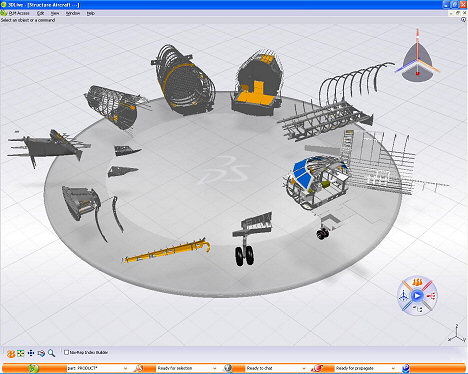 A long journey
Games such as World of Warcraft, Guildwars, and the less violent Second Life have demonstrated that people can collaborate over the Internet in three-dimensional spaces to perform sophisticated tasks. It?s obvious that in an increasingly global economy, engineers ought to be able to design products, buildings, and production lines while working with virtual mockups in a shared 3D space.
The announcement of 3DLive is the first step in a long transformation of the way engineers design, build, and maintain complex systems. Bernard Charlès has the vision to see what needs to be done and the financial resources to carry it out. Like other transformations, the shift to shared design spaces will take years to accomplish. Along the way customers and software developers will make expensive mistakes and project managers will rue the day they got involved with this new-fangled technology.
To be successful, Dassault will have to do a better job of understanding how engineers and production people really work in order to develop tools that make them more efficient instead of getting in their way. As the company learns more about what engineers really need, it may have to scrap or rework its existing code or take new approaches to the design of its system.
Throughout this transformation, customers will need to judge whether or not software technology has become sufficiently capable and reliable to be worth adopting. The early adopters will be companies with serious problems and big market opportunities. The rest of us will join the party later.