Bayer will use a wide variety of Autodesk products in the design, construction, and operation of chemical and pharmaceutical plants worldwide. Four years ago Intergraph SmartPlant was supposed to do the same thing.
Bayer Technology Services has signed an enterprise agreement with Autodesk for the global use of a variety of software products and suites. Four years ago Bayer struck a similar deal with Intergraph for purchase of its SmartPlant technology, strongly suggesting Bayer has moved on.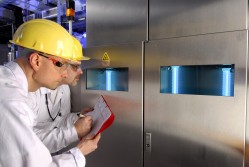 Bayer is a global enterprise with core competencies in the fields of health care, nutrition, and high-tech materials. The company says it plans to implement "a more streamlined process for the design, construction and operation of manufacturing plants worldwide."
An estimated amount of revenue from the deal was not disclosed by either party. Press releases like this are required by SEC guidelines when the potential income "materially impacts" revenue. It would only take the sale of 100 suites to generate $500,000 in revenue, so we expect this deal to be worth at least €1 million to Autodesk over the next two or three years, or around $1.5 million.
The deal gives Bayer architects, engineers, designers, drafters, and project managers greater access to a broad range of Autodesk solutions for Building Information Modeling (BIM) and Digital Prototyping, including the Autodesk Design Suite, Autodesk Building Design Suite, Autodesk Plant Design Suite and Autodesk Factory Design Suite.
"Competing in a global marketplace requires us to respond to customer demand as quickly as possible, and opening new or adapting existing manufacturing sites is essential to that," said Juergen S. Kussi, head of Plant Layout & Piping of Bayer Technology Services. "Through this agreement, we will increase our use of Autodesk software across many projects, making it easier to more efficiently use information across projects and more rapidly react to changing market conditions."
The subsidiary of Bayer AG employs 2,700 experts worldwide at its headquarters in Leverkusen and other German sites, as well as in regional offices in Belgium, Brazil, India, Mexico, China, Russia, Singapore, the United Arab Emirates, and the United States. In 2010, the company achieved sales of approximately €420 million.
What we think
The $1.5 million or more from this deal is money that won't be going to Intergraph, who has a similar deal with Bayer Technology in 2007. This deal is the strongest sign yet that Autodesk is moving from being the small player in plant, supplying only AutoCAD for 2D drafting, to being a major player in 3D plant design and operations.