Mixing 3D printing with robotics and turning printing on its side, literally.  
Stratasys prepared for the IMTS (International Manufacturing Technology Show) with several new announcements including new technology to enable 3D printers to create large models, new partnerships, and technology that combines robotics with 3D print, which the company says will improve the ability to create composite products in any size and predictably.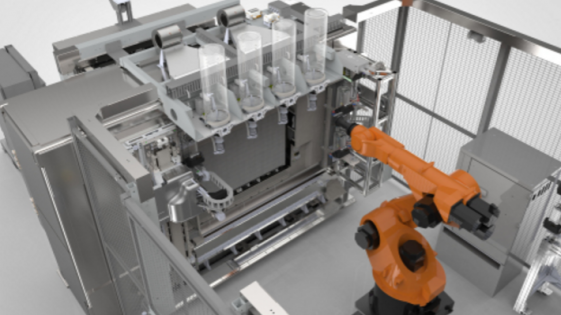 The company has developed two new prototype machines, which they're calling demonstrators to prove the practicality of their innovations. They will show the Infinite Build 3D Demonstrator and the Robotic Composite 3D Demonstrator at IMTS in September.
The Infinite-Build 3D Demonstrator is designed for large part production. Stratasys is working with customers in a range of industries including automotive and aerospace. The company says they have turned the traditional FDM process on its side, literally, to produce large lightweight, thermoplastic parts using repeatable and predictable processes. So, in the case of the Infinite-Build 3D Demonstrator, putting the technology on its side enables the creation of long parts, which is interesting to the aeronautic and automotive industries.
Stratasys has been working directly with Ford Motor company and Boeing to design its new large format printing tools. Both companies are advising Stratasys on their requirements for new printers. Ford executives note that being able to create large automotive assemblies enables more custom design using lightweight materials.  For Boeing the breakthrough comes with the ability to build models of any length enabling whole airplanes panels to be built.
CAD collaboration
Siemens has collaborated with Stratasys to build the Robotic Composite 3D Demonstrator. It is an example of a new opportunity in the 3D printing, which is EOAT (end-of-arm tools) for robots. The technology combines reasonably ancient technologies, NC programming and rapid prototyping. Put another way, it combines technology normally associated with subtractive technologies, like NC, which has been used for cutting, etching, etc. and for additive, which in the case of FDM, is more like spitting.
Siemens has been developing design-to-3D software modules as part of its work to close the loops between design and manufacture. Stratasys has also talked about how additive manufacturing can come into play to create parts in rapid repair applications and it has spent $21.4 million building a 3D printing plant in Finspång, Sweden, to build spare parts for its turbines and also to prototype new designs. (In this case, it has been working with Eos, which has metal printing technology.) Siemens competitor GE has also built a 3D printing facility to enable production of parts for jet engines, wind turbines, locomotives, and for water treatment. There is real commitment in industry to additive manufacture and to new approaches.
Stratasys says composites are coming into wide use for their lightweight and strength. The challenge is in creating composite parts that are strong in all direction. Fibers have to be laid down in different directions, but the process also has to be repeatable. Stratasys says the Robotic Composite 3D Demonstrator delivers true 3D printing by using an 8-axis motion system that enables precision in the placement of materials and also reduces the need for supports. Arun Jain, VP, Motion Control, Digital Factory US, Siemens says "Siemens is helping to create a flexible, multi-function manufacturing workflow that puts 3D printing firmly in the factory." He says the Stratasys' approach with the Robotic Composite 3D Demonstrator "is one of the most promising."