Use of mobile and virtual workstation use of CAD tools will increase, according to new research survey.
A recent survey of engineering and other CAD-using firms reveals spending will go down for desktop PCs and up for mobile products and virtual workstations for CAD use.
The data comes as part of the Worldwide CAD Trends 2016 Survey from Business Advantage. Survey results are based on responses from CAD users, designers, engineers, and other professionals including managers and senior executives.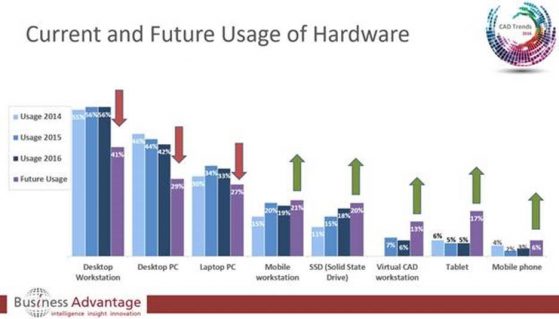 At present, 56% of CAD users utilize desktop workstations, 42% use standard desktop PCs, and 33% laptop PCs. According to the survey, these percentages have been stable for the last three years.
By contracts, future usage of desktop hardware is predicted to drop, while newer work platforms gain market share. According to the Business Advantage data, 19% of CAD users currently use mobile CAD workstations, 6% are on virtual CAD workstations, 5% use tablets, and 3% use CAD on smartphones.  Overall, CAD users responding to the survey are predicting significant increases in the usage of virtual CAD workstations, tablets and smartphones. Virtual CAD workstation and mobile phone usage is predicted to double, and to triple for tablets.
"Current usage for desktop based hardware solutions is stable though a significant decline in future demand is predicted by survey participants.  There are increases forecast in usage and demand for tablets, virtual solutions and in mobile phone usage (but from a low base)" said Chris Turner, CEO/Managing Director of Business Advantage.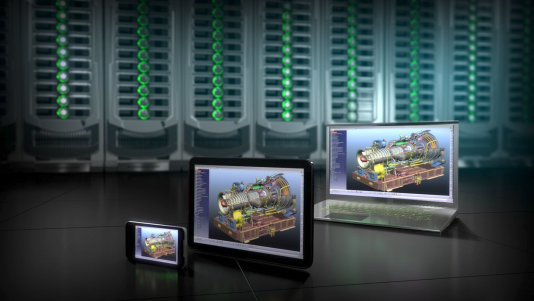 Hardware usage by industry sector
Certain types of hardware are slightly more prevalent by sector. For example, desktop workstations are currently used by 55% in manufacturing and 60% in AEC. These percentages are forecast to drop to 32% and 50% respectively over the next 3 to 5 years. Desktop PCs are currently used by 39% in manufacturing and 42% in AEC and are forecast to drop to 28% and 32% respectively. Laptop PCs are currently used by 32% in manufacturing, 30% in AEC and are forecast to drop to 31% and 18% respectively.  
On the other hand mobile workstations are currently used by 19% in manufacturing and 21% in AEC; these percentages are forecast to be steady in manufacturing but grow to 25% in AEC. Virtual CAD workstation use is currently 5% in manufacturing and 9% in AEC and the forecast is for both to increase to 12%. Tablets usage is currently 5% in manufacturing and AEC, forecast to grow to 17% in Manufacturing and 18% in AEC.
What do we think?
These survey results should not come as a surprise. Hardware vendors have been ramping up their support for virtual workstations in recent years. The need for workstation-class hardware will not disappear, but as the capabilities of mobile hardware increase and the use of virtualization services matures, more work that in the past has only been done on PCs and workstations will naturally migrate to mobile devices, with or without the virtualization connection. There is too much collaborative advantage and efficiency to be gained for these trends to be ignored.