The emphasis for this year's update is on automating repetitive processes and pushing forward into design tasks SolidWorks users have been doing on the side.
SolidWorks is adding a new costing tool as part of its 2012 upgrade of the product line. SolidWorks Costing joins existing modules for simulation and sustainability as SolidWorks looks to push forward into design tasks its users do on a routine basis that have not traditionally been considered a CAD function. The new version of SolidWorks will be released in October.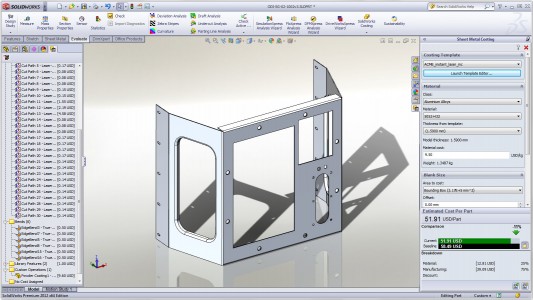 Other notable features among the 200+ enhancements in SolidWorks 2012 are:
Large design review
Magnetic lines and balloon enhancements
Feature freeze
Enhanced equation editor
Command search
Motion optimization
SolidWorks Enterprise PDM Integrated Search
Sustainability new interface
Some new features are not new tools, but techniques that automate repetitive tasks, such as the increased use of "at your finger tips" access to commands at the cursor. The new magnetic lines feature is designed to take much of the tedium out of creating shop drawings from models; it is 'snap' technology that has existed from the beginning, applied in new ways.
During a press briefing last week in Boston, SolidWorks executives also gave an update on sales and revenue. For details, see "SolidWorks riding a post-recession growth wave."
Costing leads the feature list
SolidWorks is definitely promoting its new costing tool as the headliner for 2012. As product manager Kishore Boyalakuntla told us, "We are working to make SolidWorks a solutions package not just a CAD package. If you know SolidWorks, [the new costing module] comes naturally."
The technology behind the new costing tool is based on the three years of experience with the sustainability module for SolidWorks. This first iteration automates creating manufacturing cost calculations for sheet metal and machined parts. Users can modify designs or switch part configurations, then immediately see new, updated manufacturing estimate information. A variety of default templates are customizable to simulate the user's specific manufacturing situation.
In describing the new costing tool, CEO Bertrand Sicot says SolidWorks users "are spending too much time redesigning for cost." Their research shows most SolidWorks users are also tasked with exploring and managing costs, and have to leave SolidWorks to use spreadsheets or other tools. By moving costing upfront into design, SolidWorks hopes users can begin to weave cost into the design process. Similar to the sustainability module, costing provides ongoing feedback.
Customers have been spending hours looking up information, says Austin O'Malley, senior VP of research and development. He expects users to take the costing database that ships in SolidWorks 2012 and immediately customize it, as users are already doing with the sustainability module.
Large design review
Another headliner in SolidWorks 2012 is Large Design Review, new technology that drastically increases the speed by which a large assembly can be opened and interrogated. The idea is to bring upfront into design the kind of product review or design review that has been typically done outside the CAD tool with specialized view/markup software. One product manager called Large Design Review "Quick View on steroids." Opening any SolidWorks model with more than 5,000 parts automatically calls the Large Design Review feature. Users can create walkthroughs, create snapshots to store specific views, do section and measure commands, or open any assembly component.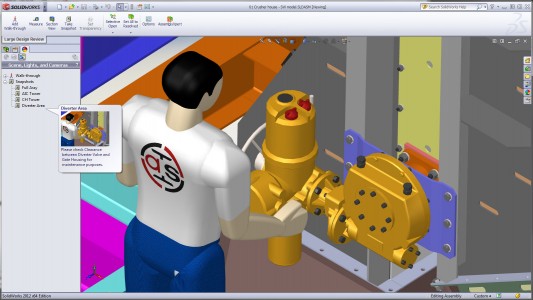 Other major new features in SolidWorks 2012 include:
Magnetic Lines and Balloon Enhancements: Automatically and precisely arrange balloons on a drawing. Balloons will snap to magnetic lines and can be moved from one magnetic line to another. This one feature alone will increase productivity substantially for those users who create shop drawings—a large percentage of the SolidWorks user base.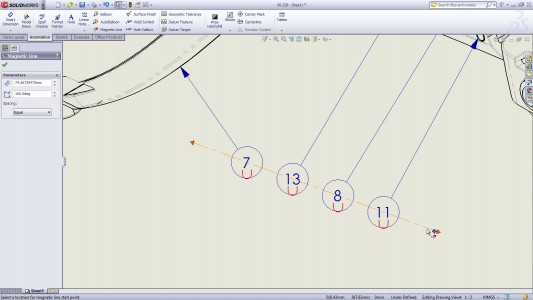 Feature Freeze: Users can now control whether specific features will rebuild or not, saving redraw time. Additional features can be added without having to rebuild earlier ones; at any point, features can be unfrozen. This will be especially useful when working in complex models where some sections are essentially finished.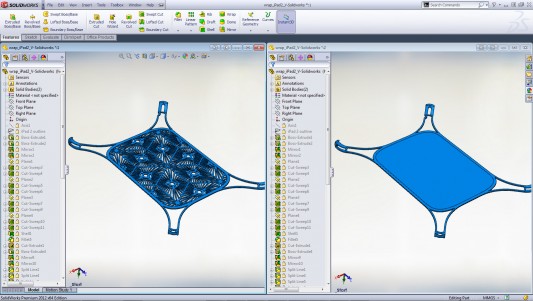 Enhanced Equation Editor: The Equation Editor has been completely revamped for easier navigation and use. Syntax highlighting helps trouble-shooting of equations. Multiple views include Variable and Equation View, Dimension View, and Solve Order View.
Command Search: We doubt any SolidWorks user has all the commands memorized. This special feature makes it easier to launch commands, drag and drop commands, or just highlight command locations in pull-down menus or toolbars directly from the search results. Works in conjunction with UI customization.
Motion Optimization: "Sensors" can be added to motion study, to help refine machine aspects such as motor size, bearing loads, and range of travel. Users may dynamically adjust any input and immediately see changes to constraints or goals.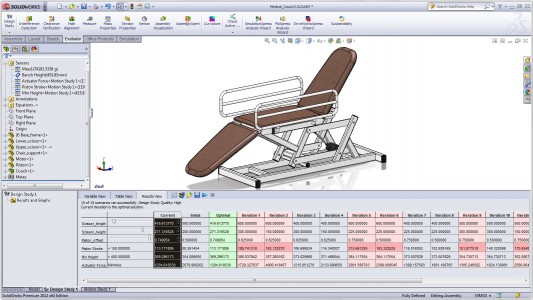 SolidWorks Enterprise PDM Integrated Search: Enterprise PDM Integrated Search now provides the option of searching from within the current Explorer window; no separate dialogs needed. This not only improves search for files but reduces screen clutter by streamlining the number of open dialog boxes.
What we think
SolidWorks is clearly running with the idea of providing its users the mechanical design equivalent of Microsoft Office, and giving them a more wide-ranging design environment. The modeling capabilities in MCAD products are mature, so they are looking at the day-to-day workflow to see what else can be improved. If users are turning from SolidWorks to perform a task and then returning to it with results or data, R&D immediately sees an opportunity for improvement.
Today most users of CAD for product design see costing as a function of whoever runs the Enterprise Resource Planning (ERP) software. As product management VP Fielder Hiss says, "our costing tool is for the designer, and we are happy to be the first mover." Fielder sees the current costing tool as another important step in improving the sourcing workflow for its customers. "There is a huge sourcing challenge in the small shops and companies who use our products."