Revenue in the first half of 2011 was up 18% from last year. SolidWorks is now bringing in 23% of all Dassault Systèmes revenue.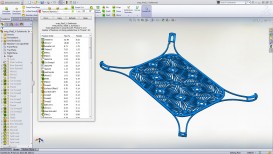 SolidWorks 2012, announced this week (see "SolidWorks 2012 adds costing module and large design review technology") is the first update since Bertrand Sicot was promoted to CEO. A 14-year veteran of SolidWorks, he is an engineer by training who worked his way up through the sales organization. In an advanced briefing with the press last week, Sicot said 90% of the improvements in SolidWorks 2012 were driven by customer requests or by close observation of how SolidWorks users perform common tasks.

This year's update to SolidWorks comes as the "mainstream 3D" division of Dassault Systèmes is riding a strong wave. Revenue in the first half of 2011 was $236.3 million, up 18% from the first half of 2010. Currently 23% of all Dassault Systèmes revenue ($1.6 billion in 2010) comes from SolidWorks.
All geographic regions are doing well for SolidWorks. Breaking down 2011 revenue, 37% comes from the Americas, 21% from Asia/Pacific, and 42% from Europe/Middle East/Africa. The growth rate in emerging markets is twice the rate of markets in developed regions. SolidWorks CFO David Stott says Japan as "proven to be quite resilient" with first half 2011 revenue posting double-digit gains from 2010 despite the earthquake earlier this year.
Now at over 850 employees, SolidWorks has hired 75 new employees in the last 12 months. Unlike most of its competitors in MCAD, SolidWorks did not layoff employees during the recent recession. The fiscal quarter that ended June 30, 2011 was the fifth consecutive quarter in which SolidWorks posted year-over-year revenue increases of 20% or more.
New commercial (non-educational) seat sales are up 23% in the first half of 2011 compared to 2010:
SolidWorks new seats, first half 2010: 19,613;
SolidWorks new seats, first half 2011: 24,201.
The average retail sales price (ASP) of a commercial SolidWorks seat has held steady around the $8,000 mark for three years, despite the recession. "We sell on value," notes Sicot. Nearly 20% of product revenue is now coming from the non-CAD portions of the SolidWorks portfolio, including simulation, 3DVIA Composer, sustainability, documentation, and PDM; sales of these products are growing faster than CAD product revenue. "There is lots of opportunity in the user base for these solutions," says Sicot. Of all non-CAD products, today PDM is growing the fastest; simulation is traditionally the fastest non-CAD segment. "PDM is what people are looking for right now," says Sicot.
Sicot says SolidWorks plans to increase its spending on its channel partners in the coming year. "We are 100% dedicated to indirect sales." SolidWorks now has more than 2,000 sales reps and 4,000 technical support people in the channel. The company plans to extend its certification processes to sales and marketing personnel in the channel in the coming year.
Without providing specific figures, SolidWorks CFO David Stott says subscription renewal rates are at an all-time high, and that attach rates for new subscriptions "are also very high." It seems not every region has taken to the subscription model yet. "The idea of software subscriptions is not part of the business culture in China, for example. We need to understand the notion of perceived value there better [if we want subscriptions to work]," notes Stott.