A revitalized Solid Edge, new robotic research, and partnerships for 3D printing top the agenda.
By Kathleen Maher
The real world and the digital world are blending rapidly in the field of manufacture. We're coming close to a time when robots will happily go about our business. They've already been transforming the field of manufacture, but the pace is speeding up as new technologies such as computer vision and machine learning enable robots to take over more duties. Siemens is unique for its very broad line of products that span products, factories to make those products, design software, automation software, and so on. The company's fortunes are also closely intertwined with that of the German state, and so is a key driver in Industrie 4.0, Germany's take on the transformation of industrial IT by digital technologies.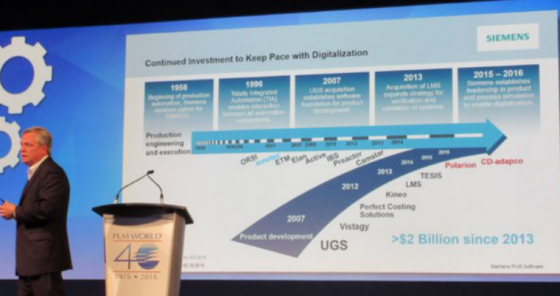 Siemens PLM now knows exactly who and what SolidEdge is for. The company has been stuck in simply seeing its mainstream CAD product as a head-to-head competitor with Dassault Systemes SolidWorks and Autodesk Inventor. The computer industry has been comfortable with three-way wars in mature markets, and so Solid Edge was just bumping along, a trailing number three. Luckily for Solid Edge, the design industry has been turned upside down and new customers have pushed a big reset button.
3D solid modeling CAD companies have been failing their core constituency, the engineers in startups and small companies—lean operations with little in the way of IT support, made up of innovative designers eager to get up and operating fast, with a need to collaborate and communicate wherever they are.
The new Solid Edge supports this segment of the CAD market with cloud-based user preferences and flexible licensing so that people can get to their work wherever they are.
Storage and Vaulting options support Dropbox, OneDrive, Google Drive, and Box to allow people to use systems they have already been using for cloud-based data storage.
Data management includes search tools for files and properties and impact analysis. Design Manager tools are integrated in Solid Edge and therefore don't require additional database software include revision and release management.
For companies that want more advanced data management, Teamcenter has been more integrated into Solid Edge and provides an embedded window to open up Active Workspace. A ribbon bar gives users the ability to perform where-used searches, view and edit properties information, see the progress of synchronization, and initiate other Teamcenter workflows.
Once found through easier search processes or Active Workspace, parts can be easily dragged into Solid Edge for editing or to be added to an assembly.
Data exchange has been enhanced to enable more seamless data exchange. Siemens has worked with data exchange experts TechSoft 3D of Bend, Oregon, to integrate their Hoops Exchange technology with Parasolid to enhance data re-use. The new agreement allows developers to license Parasolid and Hoops through Siemens or TechSoft 3D, and Siemens has used the technology to improve data exchange with Parasolid-based products including SolidWorks as well as Siemens own NX.
Another, earlier deal between Siemens and Autodesk was announced in April. The two companies pledged to improve data exchange and with this release of Solid Edge, Siemens says they now have improved drafting exchange between Solid Edge 2D and AutoCAD. Siemens's new Catchbook also benefits from better data exchange. Exchange tools let sketches created in Catchbook be transformed into 3D models and professional engineering drawings. Solid Edge ST9 will ship this summer.
3D printing will change the world
At PLM World, Siemens declared itself in favor of any and all 3D printing. The company was careful to throw some love at competitors HP and Stratasys. Before the conference started, the company announced a deal with Local Motors (LM), which is reinventing car manufacture by restructuring the design process. The company solicits input via crowd sourcing, and it's building small manufacturing facilities near potential customers. Some of the factories the company is building will manufacture 3D printing cars. The company's goal is to include the customers in the process of designing and building cars and putting the manufacture close to customers as well.
Co-creators are invited to add their ideas to the Local Motors design, and the community selects the designs that will work best for the car. Local Motors has been working with Solid Edge, and it has been taking advantage of the tool's ability to exchange files.
Now LM is adding on Siemens's PLM tools NX and Fibersim for working with composite materials. The two companies say they'll be working together through the Local Motors Labs program, which is open to the community. The Local Motors Lab project invites interested people to come in and tackle problems. As the company says, "While our primary focus is on developing vehicles, LM Labs is a place where the community can advance any technology." So now, people coming to the labs will have access to a wider range of tools.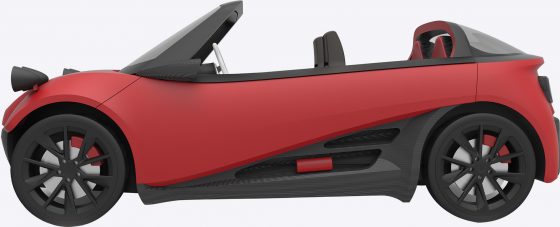 Spider robots
Last month, Siemens USA unveiled research work it has been doing in Princeton, New Jersey. Researchers have been combining spider robots and 3D printing, and they've come up with SiSpis, short for Siemens Spiders. They are part of a larger effort at Siemens called Siemens Agile Manufacturing Systems (SiAMS).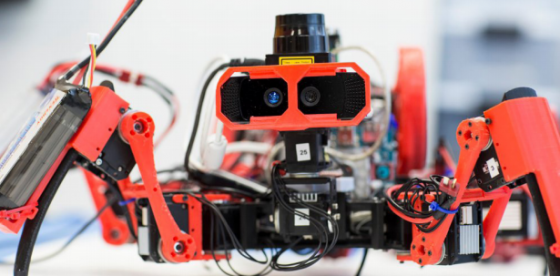 The idea is that the 3D printing robots could work collaboratively to create large-scale, complex structures. The team is led by Livio Dalloro, who heads the Product Design, Modeling and Simulation Research group at Siemens Corporate Technology (CT). Dalloro describes the SiSpis as "fully autonomous additive manufacturing devices with legs," and he describes a scenario featuring hundreds of SiSpis able to semi-autonomously handle one small part of a job. Siemens research in this area is to try to conceptualize and standardize the types of work the Siemens Spiders can do and to create processes to enable those projects. It's an example of Siemens Digital Factory coming to life and walking around.
The spiders make use of 3D sensor cameras and laser scanning to be able to navigate their environment. The robots know the amount of area their 3D printer arm can cover, so they're able to collaborate on how to cover the desired area. Each area is divided into vertical boxes.