Formerly known as Memento, Remake is now the latest product in Autodesk's line of reality capture products that include 123D Catch and ReCap. The new product is designed to open up the fields of 3D modeling, design, and 3D printing to more people in a wide variety of disciplines. 
Autodesk's Memento technology has gone through a few do-overs since its original introduction in the summer of 2015. Along the way, the software has improved mightily. At its heart, it's a photogrammetry tool, which can create 3D models from a series of pictures taken with any camera. In fact, many of the models in the Memento library have started out as iPhone photos. Perhaps even more important is where the models can wind up. From the start, Memento was developed to fit into the content creation pipeline including AR/VR and fabrication. It's a tool designed to give 3D access to everyone.
Memento has finally reached the end of its long journey to product release and is now available as ReMake, for a monthly subscription of $20 a month or $190 a year. Recognizing that people may not need to create models frequently, ReMake can be purchased month by month. In addition, there is a restricted free version.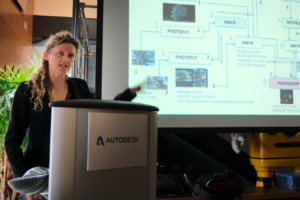 The program looks more robust. At the celebration for ReMake at Autodesk's Pier 9 facility, Senior Product Manager Tatjiana Dzambazova said the software can handle the very large files that are typical of photogrammetry. In earlier versions, processing for the photos happened in the cloud, but, with this shipping version, Autodesk has added a client based capability for cloud processing as well. Client based photogrammetry processing requires a powerful computer and could be time-consuming but, says Dzambazova, some customers weren't willing to put their content in the cloud.
The key part of the puzzle that it works with other products. Memento has had support for .OBJ and other formats but the function as been improved over the products development phase. On release, ReMake can output .OBJ (Quads), STL, .PLY, .FBX or save as RCM. FBX support includes export with baked normals, displacement maps, and texture map to enable low polycount models with high visual quality for 3D modeling apps, web, mobile, AR/VR content creation, and support for Unity and Unreal game engines. The most commonly used format will be .OBJ, which includes quadrification to enable interchange with Autodesk Fusion 360. In addition ReMake offers template shortcuts for Fusion 360, Unity, Unreal, Stingray, 123D Make, ArtCAM, AutoCAD, Maya, 3dsMax, Mudbox, and Blender.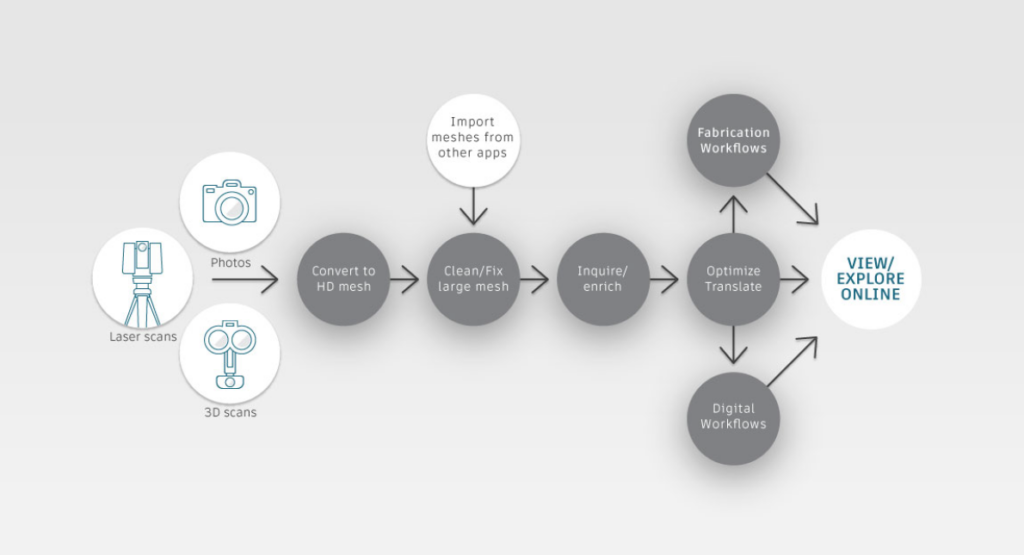 The release software can visualize and edit up to one billion polygons, which, the company says is pretty typical when detailed captures are needed and multiple sensor inputs are used. After the model is created ReMake includes tools to decimate the mesh so a more manageable model can be created for export. We tried out the software for a fairly modest model with a pretty capable machine (a Lenovo P40 mobile workstation). The machine, has no trouble handling the model, but local processing isn't real speedy. In comparison uploading the files to the cloud resulted in a fast return of the model. Given a modest amount of pictures (about 15) the difference between processing on the cloud and on the client was about 2.5x faster in the cloud.
The new features included in the shipping product include:
Local computing with control parameters and 50Gigapixel image input.
Powerful differential analysis, reference points, scale and units
Smart export templates for direct workflows with design, modeling and story-telling tools
New Play publish for online sharing
ReMake was developed with the help of an enthusiastic and committed beta community that includes government entities, hobbyists, scientists, and travelers. Dzambazova says, we'd like to help small people do big things, but her group is also helping big people do big things.
Over the period of ReMake's beta existence as Memento, Autodesk has worked with several very innovative groups who want are experimenting with the technology for a variety of applications. Many of these are showcased on Autodesk's ReMake site and in the gallery.
Perhaps most glamorous, ReMake has got itself a berth on the Space Station as part of the Made in Space project. Working on the principle that there are no hardware stores in space, the Made in Space project puts a 3D printer onboard the space station to enable replacement parts to be printed for the space station. The Smithsonian Institute is another perfect customer for ReMake. The Smithsonian has been creating 3D models of its collections for more than 15 years using whatever technology is available. They've been using Faro scanners and laser scanners, and now photogrammetry. Their ambition is to enable more of the treasures of the Smithsonian to be made available to the public. As it is now, less than 2% of the Smithsonian's huge collection is accessible to the public. Creating 3D models can enable people so see and explore the models in ways that are often impossible when dealing with the real artifacts, many of which are fragile. For another example, Dr. Louise Leakey is using the technology to recreate stone tools and fossils, which can be used by classrooms around the world.
What do we think?
We're getting there. Photogrammetry is magical technology. ReMake, its forerunner 123D Catch, and its big brother for point clouds ReCap, are all promising efforts by Autodesk to give more people the tools to create 3D models. A casual trip to the back yard to capture a garden gnome functioned as a reality check. It's not easy to properly capture all the photos for a model. Years ago we talked to people at the Smithsonian who told us the process can be arduous, but once you get it, it's then relatively simple to repeat the process. Some of us seem to be a long way away from that stage.
The ReMake software is admirably straightforward and streamlined – sometimes dauntingly so. There are a very few commands illustrated by icons and minimal tags. It does not yet support high resolution displays so reading the tags can be challenging, but these are quibbles. The model processing itself is fast and rewarding.
People who actually want to do further work on the models in other software, including Fusion 360, Max, Maya, Blender, etc. will need to develop skills decimating the models and working in those target programs. Dzambazova says Autodesk is committed to improving the process so it will become easier.
There is a pent-up demand. People want to use 3D content and they will as soon as they can get their hands on it.