Siemens was first a Bentley customer, but the relationship has grown to include joint working relationships in creating interoperable software for factory construction and process plant engineering and operations.
By Kathleen Maher
Although it has not been generally known, Siemens and Bentley are long-time collaborators. The two companies have multiple agreements in which they deploy each other's technology. The relationship became more public in 2012, when Siemens and Bentley entered into a strategic collaboration around factory design and automation that led to an additional strategic collaboration this year, and there is very likely more collaboration to come in the future.
Siemens has long had tools for designing the production line, and Bentley, of course, has a wealth of architectural design tools. Siemens teamed with Bentley to provide the architectural design tools for the factory around the line, from the factory layout to the concrete floor, walls, windows, doors, and power to the production line and HVAC. The alliance has been driven by companies in the automotive industry. The collaboration enables companies to more efficiently design factories and gives people tools to understand how the factory is operating in terms of energy use, carbon emissions, efficiency, safety requirements, etc.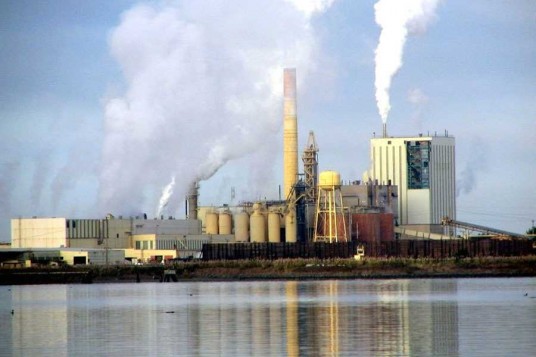 Optimizing process engineering
In the spring of 2013, the two companies announced an extension of their collaboration to include the process industry, where Bentley is also very well established. Bentley had made a competitive bid to replace Intergraph's PDS system inside Siemens Energy. It won the bid to replace its long-time arch-rival Intergraph, and in the process strengthened its working relationship with Siemens. Siemens' customers in plant design use its Comos engineering solution to carry out the 2D logical design of the plant from the upfront conceptual process design, through to instrumentation and control. Typically, they then turn the design over to engineers to do the detailed 3D engineering for construction using products from Aveva, Intergraph, Autodesk, and Bentley. In practice, there has been little to no real-time collaboration among the engineering teams, and efficient hand-over to operations has always been a challenge.
This is an old story, but Bentley and Siemens are trying to rewrite it because the rewards are huge and extend beyond factory design and the process plant industries. In an announcement of the extended collaboration, Andreas Geiss, VP of Comos Industry Solutions at Siemens, said, "By increasing the interoperability of our fully integrated 2D engineering software solution Comos with Bentley's open 3D system OpenPlant, we will be generating exciting new potential for users, based on the global standard ISO 15926 and iRING. This will benefit both plant engineering and operation."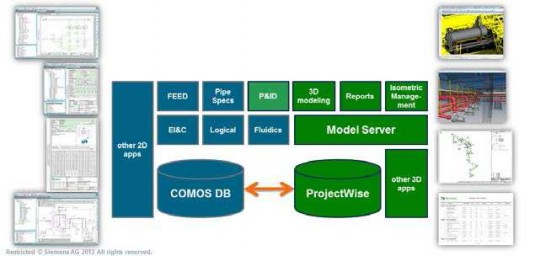 The goal of ISO 15926 is to enable better data integration between programs and computer systems for the plant design industry. It has spawned iRING, a practical, neutral, and open source implementation of ISO 15926, and it is gaining support in the plant community.
The industry has all the pieces. They just haven't been able to put them together in ways that actually foster collaboration and wind up being useful to the ultimate users of plants and factories: the owners. Part of the problem is competition, but another part of the problem is simply communication across divisions within companies and across separate companies. Standards provide a common language, and sometimes they're as hard to develop and get established as it would be to write an actual common language for humans.
The process industry is a perfect laboratory for developing tools for better collaboration and communication in design, architecture, and facility management because they are such complex operations with serious security requirements. They're building nukes, pharmaceutical plants, energy grids, and other utilities key to the function of our modern world. And yet, these are usually designed and built using tools that don't communicate and aren't useful to the owners and operators who will be running the plants after they are built. The fact that Bentley Systems and Siemens, two companies with their own complexities, have come together to build better tools for the process industry is in itself a convincing argument for the progress that has been made through the establishment of common standards. The two companies say they now can enable a connected design that includes process, piping, and operations in a way that's connected throughout.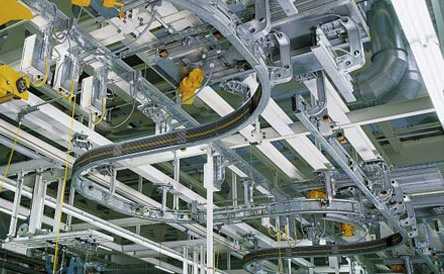 New opportunities
The two companies have been happy with their two major efforts at collaboration. Anne-Marie Walters, Bentley Plant's global marketing director, says they've been able to accomplish a great deal of innovation in a very short time. It's as if they're opening doors within each company's vault and finding valuable technology that they can fit together, thus it's very likely there is more the two companies can do together.
Both Bentley and Siemens have a commitment to creating digital tools that have practical value for the real world. In the case of the factory design tools, they are developing tools that not only let engineers "see" how it all works, but they can understand how much heat is coming off machines and how much they vibrate so engineers and architects can better design a space to accommodate them. In the process industry, plants are never actually finished; they evolve and are maintained. Just being able to "see" what's going on inside a plant using digital tools that accurately reflect the reality is an improvement, the value of which is almost impossible to calculate, but improved efficiency and safety are obvious goals.
Both companies have been experimenting with point clouds and hybrid models in which the point clouds can be integrated with CAD for dynamic clash detection to provide a realistic reflection of what's going on in a plant. And the two companies are looking at further opportunities to work together in other industries such as renewable power generation and offshore. Bentley has technology for simulating and designing offshore structures, and analyzing the complex interactions of waves and turbine rotation on an offshore wind farm structure. Siemens is the leader in wind farm turbines. The synergies are obvious.
"We don't know quite where it will go," says Walters. However, both companies see the potential for real innovation as they find new points of intersection.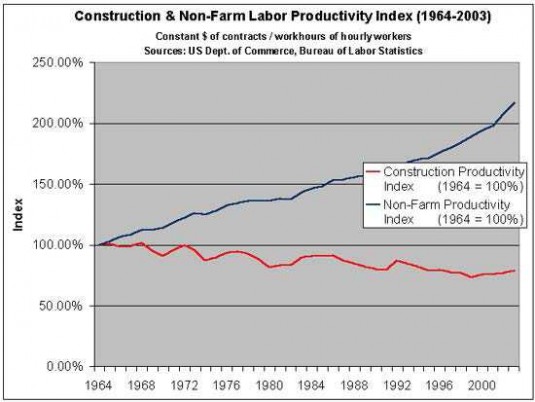 Our take
The manufacturing world has revamped and has realized huge advantages in efficiency, but that same efficiency has eluded companies in AEC and plant design. Why? The discussion has been going on for 30 years. Designing, constructing, and managing buildings is a different process from building cars or mobile phones. The process involves a lot of disparate companies with their own interests using tools that have not communicated beyond their realms. In the manufacturing industry, the customer calls the shots, and integrated workflows have evolved for more efficiency. In the larger AEC world, the biggest customers with the most complex systems have plants they want to manage. They're not really that different from the automotive companies who faced similar problems and began to demand their contractors use the same tools and provide information that can be integrated into the whole. The people building large plants and factories are starting to look for the same kinds of efficiencies, and what they're starting is going to trickle down throughout AEC.
In effect, Siemens and Bentley are creating a larger collaborative entity that can serve all the different requirements of their customers in an integrated way. Their competitors are looking for ways to do this as well, and great strides are being made toward a construction industry that can profit from digital design and collaboration in the same way manufacturing has.