Delcam for SolidWorks Xpress jumps into an increasingly competitive market for computer aided machining, with Autodesk as a new competitor.
Delcam has launched a free version of its Delcam for SolidWorks integrated CAM system for SolidWorks.  Delcam says its new Delcam for SolidWorks Xpress provides essential 2D milling and drilling functionality. The software enters a very competitive market, which includes Autodesk as well as Dassault Systemes.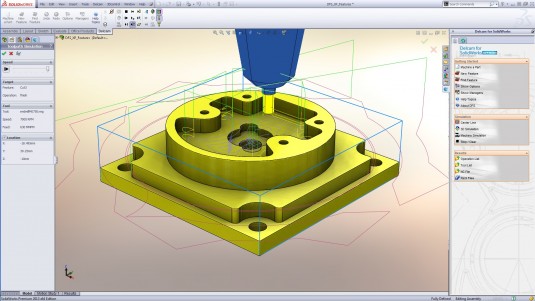 Delcam sees the new CAM tool primarily as an introductory program for users new to computer-aided machining.  Delcam also says it sees a fit with design studios only needing to program simpler CNC machines or those that wish to experiment with 2D machining before investing in a full 3D software package.
Users will be able to generate NC code for 2D parts using the program's 'feature-from-feature' technology found in the full version of Delcam for SolidWorks.
Delcam for SolidWorks Xpress is integrated into the SolidWorks environment, the same as full Delcam for SolidWorks, allowing the program to look and behave like SolidWorks. Similarly, it offers the same full associativity with SolidWorks as the senior version, so that any changes in the CAD model are reflected automatically in the toolpaths.
Drilling options cover all hole types, including tapped holes, and support drilling cycles with sub-programs for the standard controls. Full 3D simulation of all toolpaths can be undertaken, with comprehensive gouge detection, to check the programs before they are sent to the machine.  Time estimates can also be made to compare the results of using different strategies.
The software is supplied with a basic set of post-processors for typical controllers and functionality is provided so that more experienced users can tweak the standard posts to match their machine-tool controls.
It can be downloaded free of charge from www.delcamforsolidworks.com/xpress.
Our take
For many years CAM software has come from a wide variety of vendors, with no one vendor having a major share of the market. But things are starting to change. Delcam is now recognized as the largest CAM specialist, while Siemens has enjoyed increased market share in CAM as sales of NX have grown faster than the competition. Late in 2012 Autodesk joined the fray by acquiring HSMWorks, a fast-rising vendor of CAM software for SolidWorks users. Dassault Systemes responded by removing HSMWorks as a listed partner, leaving seven other CAM tools from various vendors given the official partner blessing.
Delcam is making a shrewd move by having two products in the SolidWorks CAM space. Having a free low-end product as an introduction to the full-featured 3D version gives it symbolic presence as a market leader, capable of meeting the needs of a wider market. It will be interesting to see how not only Dassault Systemes but the competition—including Autodesk—responds.