The Sunglass Parts Library is the first example of a 3D parts library linking directly to an interactive design site.
Cloud-based product design collaboration site Sunglass today launches a new online parts library, assembled in a partnership with Cadenas PartSolutions, best known as the creator of digital parts catalogs for manufacturing.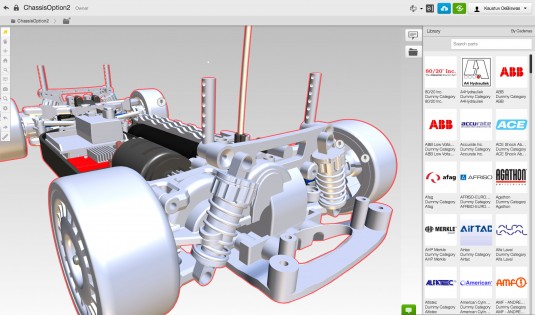 The Sunglass Parts Library will allow engineers and product designers direct access to over one million 3D manufacturing parts that can be dragged and dropped directly into web projects. The library is now an application on the Sunglass web-based platform. Sunglass and Cadenas both claim this is the "first interactive application with the ability to integrate an enterprise-grade manufacturing library directly into the 3D design environment," to quote their joint statement announcing the library.
Adding the Cadenas library means Sunglass can now supply its users with instant access to brand-name parts from over 400 leading component manufacturers including ABB, Buhler, Eaton, FlexLink, HBM, IDEC, Mädler, Bosch Rexroth, Schneider Electric, Schunk, SMC, Toshiba, Würth, Yamaha, and Yokogawa. Parts span categories such as automotive, hydraulics, automation, plant design, electrical engineering and more.
Cardenas CEO Jürgen Heimbach says engineers in 199 countries currently use the PartSolutions libraries; "We truly believe the [Sunglass] parts library app will exponentially increase the rate at which designs are physically produced."
Our take
The use of existing parts and components is a big part of today's product design process—and a tedious one at that. Designers must either order a catalog from the supplier and have it shipped in a CD format, or sign up for e-delivery, then load the relevant models onto the desktop, completely separate from the actual CAD environment. Sunglass offers the parts in a more seamless, intuitive selection experience. For example, a designer in need of a motor to finish a product can pull it directly from the Sunglass Parts Library while staying within their design workspace in Sunglass.
It is becoming clear Sunglass intends for its design collaboration site to be more than a place for remote sharing of models for review. This new library raises the bar on what can and should be expected from bringing CAD into the cloud.