Bernard Charlès went to San Diego and all he got was one little bio-chem company. 
Dassault Systèmes and Accelrys have announced their agreement to merge. Accelrys, based in San Diego provides lifecycle management software for chemistry, biology, and material. Dassault is making an all cash tender offer for all of the ouststanding shares of Accelrys common stock. The offer is $12.50 per share, which is 29% higher than Accelrys' closing price on January 29. The deal is worth approximately $750 million.  Dassault will acquire remaining shares, not tendered into the tender offer, via a merger after the closing of the tender offer.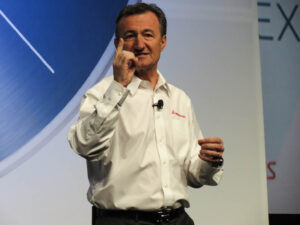 The deal will build Dassault's data management expertise in molecular chemistry and also for manufacturing and regulatory requirements in life sciences, consumer packaged goods, high tech and energy, and advanced manufacturing industries. Accelrys' has over 2,000 customers and the list includes Sanofi, Pfizer, GSK, AstraZeneca, DuPont, Shell, BASF, P&G, Unilever and L'Oréal. In his prepared statements Dassault CEO Bernard Charlès said, "the World demands a new paradigm for sustainability where chemistry, materials and biology meet. This is what the virtual universes enabled by Dassault Systèmes are delivering, capable of harmonizing products, nature and life, from imagination to industry solution experience."
The deal is expected to close in the second quarter of 2014.
What do we we think?
San Diego is the high-tech hub for the bio-chem industry and it was the site this year for the company's SolidWorks World conference. Interesting how these things work out, right?
Dassault has been building and expanding its capabilities in data management to be able to accommodate customers in almost any industry. It's all PLM to Dassault.