Intended for early design work, Shapr3D supports common 3D export formats. Don't expect Android anytime soon.
Shapr3D is gaining attention as a 3D CAD app made specifically for the Apple iPad and the Apple Pencil. Developer Istvan Csanady saw developing 3D CAD specifically for the iPad Pro as an opportunity to re-invent the 3D modeling process.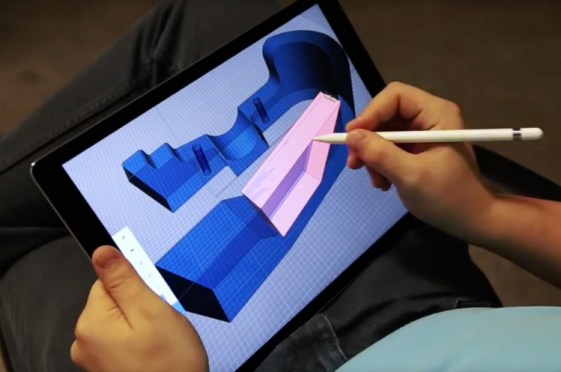 Csanady, based in Budapest, Hungary, claims Shapr3D only takes 15 minutes to learn. Other 3D modeling applications, based on desktop interfaces and deep capabilities, generally take weeks to master more than the basics. Like the desktop products, Shapr3D is a parametric modeler.  
Shapr3D does not enable the users to render 3D models; there are other iPad apps which can render 3D models, including i3D viewer and Procreate. Models created in Shapr3D can be exported in the most widely used formats for data exchange including STEP, IGES and STL. Files from these formats can be imported into most 3D CAD tools including SolidWorks, Rhino3D, Fusion 360, and Catia.
Shapr3D is available in Hobbyist (free) and Pro ($99/year) versions, from the Apple App Store.