Free 3D CAD tool claims 35 million users.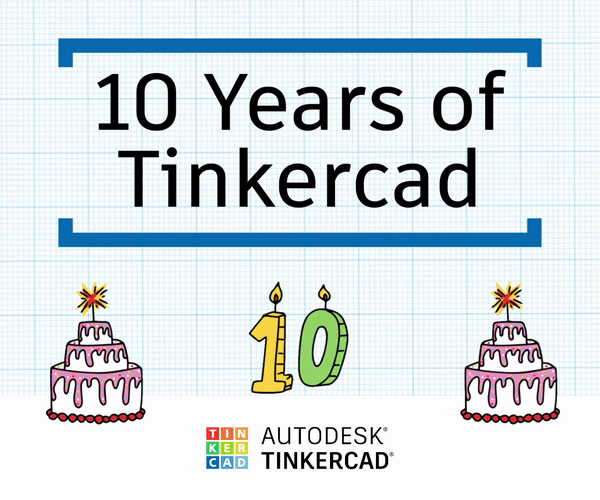 Tinkercad was born of a desire to extend 3D CAD and along the way 3D printing to the world. Original founders Kai Backman and Mikko Mononen were determined to break the logjam that has grown along with interest in 3D design. They could see that there was huge interest in 3D design to enable 3D printing, create rendered visualizations, and just play.
Backman and Mononen were paying attention to the times. Backman had been an engineer at Google. Mononen was active in game development and was a veteran of Finland's crazy Demoscene. The maker movement was gaining steam and the community around Google was hammering away on WebGL to enable 3D creation, collaboration, and interaction through the browser. If you'll remember, consumer 3D printers were arriving with price tags under $500. In founding Tinkercad, Backman and Mononen wanted to build a community around 3D modeling enabling people to build and share models.
All this is happening and Tinkercad is part of the story.
The little CAD company was received enthusiastically by the burgeoning community of makers inspired by the possibilities of 3D but the young company struggled to thrive. Backman planned to transition the company to a professional market where they might see more return on their work. Tinkercad started to unwind its business and, at the last minute, Autodesk stepped in and bought the company in 2013.
Now, even though Autodesk has not always been a savior to small businesses that dared compete with its big ol' cash cow, this time it seems its motives were pure. The company has built a powerful ecosystem for educators and students. In a celebratory blog written by Autodesk's Campbell Foster and Guillermo Melantoni,  the Tinkercad team said they experienced a boost during the pandemic as kids were forced to stay home away from school. They say, "At the peak of pandemic-induced school closures last April, 85% of all K-12 enrollees, or 1.5 billion youths, were affected worldwide. As educators sought new ways to engage students in distance learning, Tinkercad's web-based solution welcomed a quarter-million new teachers, supported millions of classrooms, and helped more than 7 million new makers take their first steps in the design and make."
They said the new sign-ups were coming from middle-school STEM educators, hobbyists, makers, and some were post-secondary students and teachers taking advantage of Autodesk's Circuits editor, which Autodesk added to Tinkercad in 2017, along with 123D Sculpt and other useful bits left over from the Autodesk's 123D experiments. Since then, Tinkercad has grown with the additions of Codeblocks, Tinkercad Classrooms, and micro:bit.
What do we think?
We may be living in extraordinary times, but let's not forget about the creativity explosion that happened around 2013 and the arrival of WebGL. The promised 3D marketplaces did appear and not just Tinkercad, but the Blender community blossomed, along with Maker Faires, and 3D literacy everywhere. The Instructables site sprung up and was nurtured by Autodesk to grow into a site that teaches people how to build absolutely anything.
Maybe the personal 3D printer hasn't quite arrived but anyone can create a 3D design and send it off to companies like Shapeways, Xometry, or plenty more to get a print of your design. The services can recommend the best printer for the job depending on the material required and the design. This will have to do until we get personal replicators. Maybe they're not so far off.