The stand-alone point cloud meshing software also now support Linux and several new data formats.
Thinkbox Software has released an update to Sequoia, its standalone point cloud meshing software application. The company says internal improvements make the new version run at "nearly double" the speed of previous performance. Other improvements include native Linux support, new workflows for maintaining georeferenced data precision, and a rewrite of the process for exporting textured mesh data to 3D applications and game engines.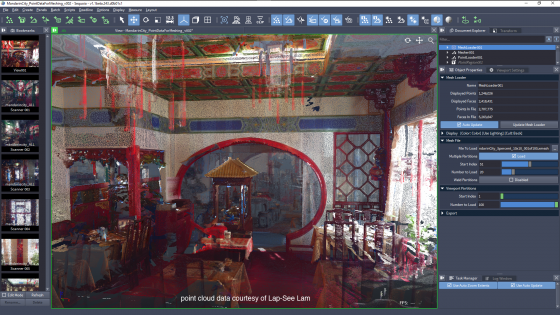 Sequoia is designed to create useable geometry from point cloud data acquired from laser scanners, photogrammetry and other sources. it can work with large data sets exceeding system memory, and remains interactive throughout. Native integration with Thinkbox'?s Deadline workflow management software enables point cloud and mesh processing across multiple compute nodes. With an addition of Linux as a supported operating system, Sequoia now works will all three major desktop environments (Windows, macOS, Linux).
Thinkbox demonstrated Sequoia publicly for almost two years before shipping version 1.0 late in 2015. "One of the coolest applications we? are beginning to see from our users is bringing real world assets into real-time environments for VR experiences," says Thinkbox founder Chris Bond. To assist this workflow, version 1.1 adds support for the FBX file format and a new one-click texture baking workflow.?
Other new features in this update include:
Baking high-resolution point colors to texture maps,

Support for new point cloud file formats, including Zoller + Fröhlich and Riegl;

New mesh file formats, including Autodesk .FBX, U3D, and 3D PDF;

New image file formats .CIN, .DPX, .HDR and .SGI.

Scripts for importing meshes and textures in Autodesk 3ds Max and Maya.