Offers new features to lure 3D CAD users to the Turing generation.
At SolidWorks World 2019, Nvidia was selling the merits of its Turing RTX 4000 graphics board to workstation users. At the conference, Nvidia highlighted the advantages to be gained by Nvidia's dedicated cores for rendering and also enough onboard memory to handle large models and assemblies. VR and AI also got their share of the spotlight.
Nvidia demonstrated its support for SolidWorks' eDrawings Pro 2019.
Dassault introduced its eDrawings Viewer in 2013 to enable sharing CAD content with users who don't have SolidWorks or may not even be CAD users. The viewer works with the major CAD programs from Autodesk, PTC, Siemens, and so on. Over the years, Dassault has continued to add on to the viewer's capabilities and has introduced eDrawings Pro 2019, which is now able to be used as an AR viewer and also for VR. Nvidia's support is currently in beta and is running on Nvidia RTX GPUs.
Content can also be ray traced through eDrawings and if users have a graphics board that supports RTX they can take advantage of Nvidia's RT cores to accelerate the rendering. Again, Nvidia is showing this as a proof-of-concept tech demo.
Visualize is SolidWorks current rendering module. It's based on iRay, Nvidia's older rendering technology, which is also built into rendering for Siemens NX and Rhino. Siemens, in fact, has acquired Lightworks, which provided iRay based renderers to CAD programs.
Nvidia has optimized its RTX technology for iRay and is reporting significant speedups in performance.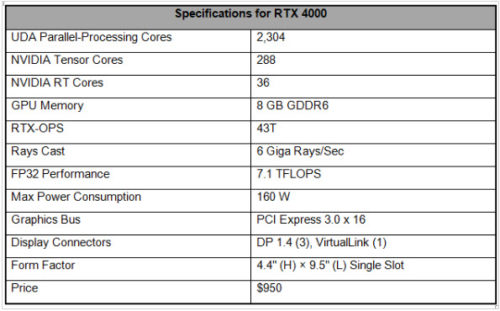 According to Nvidia's research, most SolidWorks users are still on the Maxwell generation of graphics boards. Nvidia says users can expect to see significant speedups in performance by moving to the Turing boards and getting that advantage of the hardware acceleration afforded by dedicated RT cores. Nvidia is saying the performance boost can be as much as 5–7 times faster.
The RTX 4000 was all over the show floor prominently displayed at the workstation vendors' booths including Dell, HP, and Lenovo.
What do we think?
In the summer of 2018, Nvidia rolled out Turing with new optimizations and dedicated RT and Tensor cores to accelerate ray tracing, artificial intelligence, and programmable shading for games and advanced computing.
Ray Tracing, AI, Programmable Shading, this stuff isn't for everybody, but Nvidia would like to make it so. Especially since the customer ramp to its Turing generation has been slow. Ray tracing does not get the typical gamer's blood boiling, at least not yet, so the CAD market is critical. The speedups for rendering are impressive and at SWW this year, there seemed to be more interest in rendering. Dell told us that people were also asking about workstations equipped with the RTX 5000, not that they got any firm offers for that board which carries a much heftier price tag at above $2000.