One of the first commercial VR conferences, VRLA is a leading forum for new ideas and applications.
VR LA started as a meetup in 2013 held in supportive companies' conference rooms to where it is today: a twice-yearly affair occupying the west hall of the LA Convention center. VRLA Summer Expo drew over 3,000 attendees, and 120 exhibitors, the largest VR show yet, and one of the reasons why UBM Tech Game Network., the folks who produce GDC decided they had to get into the game.
AMD was the big sponsor at the Summer Expo, co-dominating the exhibits floor with HP in a huge dome that always had a line to get into it.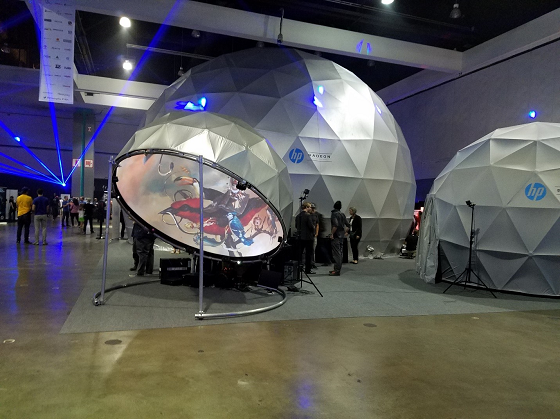 AMD's Corporate Vice President of Alliances, Roy Taylor gave the keynote and made the point that gaming produces more revenue per hour than movies. He posed the question, "What do we have to do to make VR a $1 billion business?"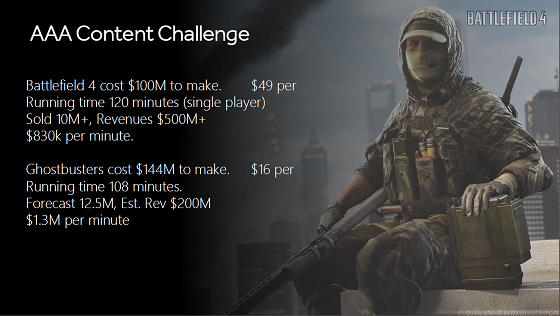 One of the ways VR can become more accessible and attractive to consumers is to be deployed in the lobbies of theater, in pods that let the visitors see side stories or background stories. Taylor suggested one of the payoffs for the participants would be comments and/or jokes in the movie that only the pod users would understand.
Taylor said some trials have been run in 35 AMC theaters and they were very successful, but they were paid for by marketing funds to promote a movie. Taylor's point is for the movie lobby pods to be successful they have to have AAA content and be a paid-for-experiences. Taylor showed a plan where just 100 theaters could deploy an average of six each pods, charge $10 a play, and gross $100 million. He showed how the concept scales.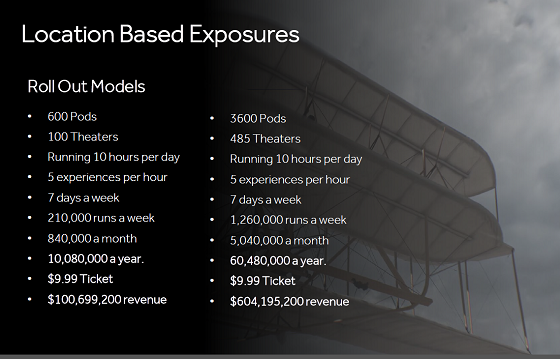 China is a leading the development of this concept, and Chinese VR promoter, 87870.com, is planning to roll out VR pods to 1,000 theaters in China. A year ago 87870 said they had gotten a $30 million investment from local sources. This summer 87870 and AMD announced a strategic partnership for "multifaceted collaboration."
Awesome Rocketship then showed their design for a location-based VR pod, which was very futuristic looking. Although not stated, the idea seemed to be that if enough people can experience VR (in the theaters, and at location-based experiences, e.g., roller coasters, arcades, and amusement parks) they will want to have the experience at home—much like the effect eSports is having on audiences.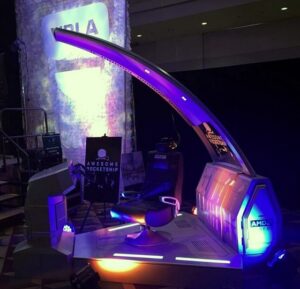 If one theme came out of VRLA it was the need for and importance of content, and not just any content, good to great content. Examples were shown by Ubisoft of their Eagle Flight, and the compelling Star Trek Bridge Crew, which brings VR to a multi-user social game.
VR first's Ferhan Özkan spoke about Crytek's VR First program, which has one of the coolest logos I've seen in a long time. The first VR First Lab was opened in January 2016 at Istanbul's Bahçe?ehir 

University. Since then, 424 academic institutions have signed up and are setting up 201 labs. That's the good news. The bad news said Ozkan was that only 40% had both PC and HMDs, and 13% only had only HMDs. Another 34% had VR capable PCs, but no HMDs, and 13% had neither PC or HMDs. Translated into students that worked out to 51 students per HMD, not a very good ratio for getting VR development or teaching done. And although he didn't make a direct plea, the message was clear—the schools need some help in getting the gear. Of the gear they have, Oculus accounts for 67% of it, HTC 11%, and Gear 15%.
The best example of exciting content was shown during Unreal's Nick Whiting's fireside chat with Brian
Rausch, CEO of the House of Moves, the Siggraph award winning game Senua's Sacrifice coming from Ninja Theory.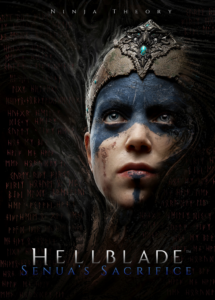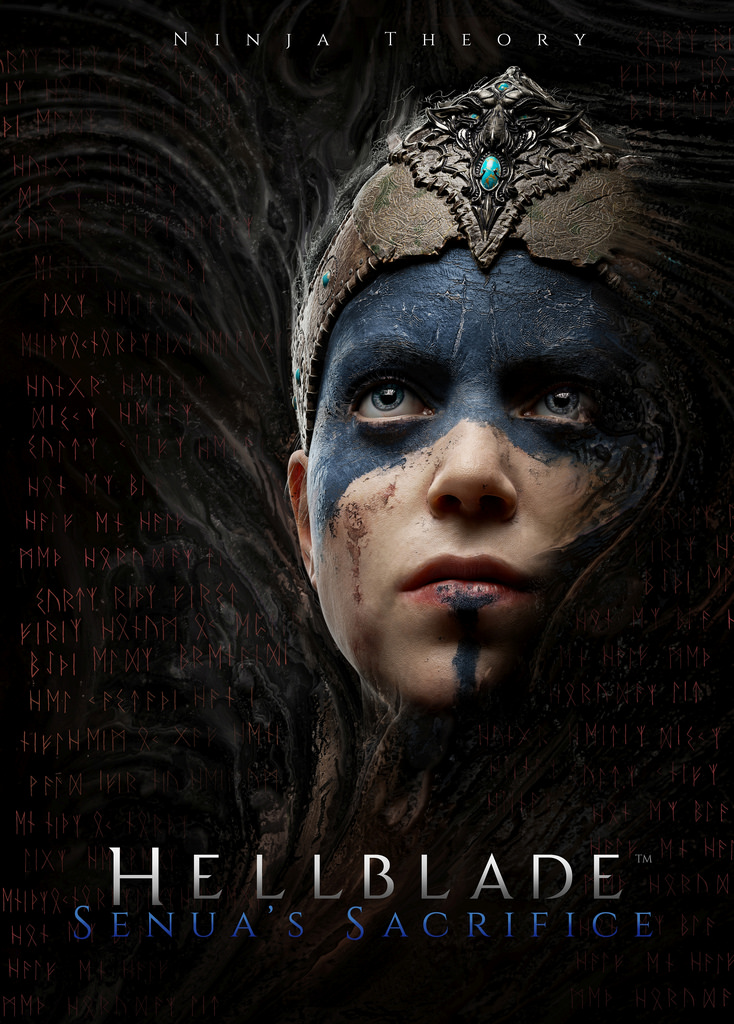 Produced and directed like a major motion picture, with real-time motion capture and face tracking, the game is evocative, stirring, and backed up by an awesome sound track. This game demands a good sound system as much as it does high-end graphics and displays.
If you haven't seen the clips on this yet, start here: http://www.ninjatheory.com/wp/
This time out, VRLA made history as It was also the first conference to offer a real-time VR RAVE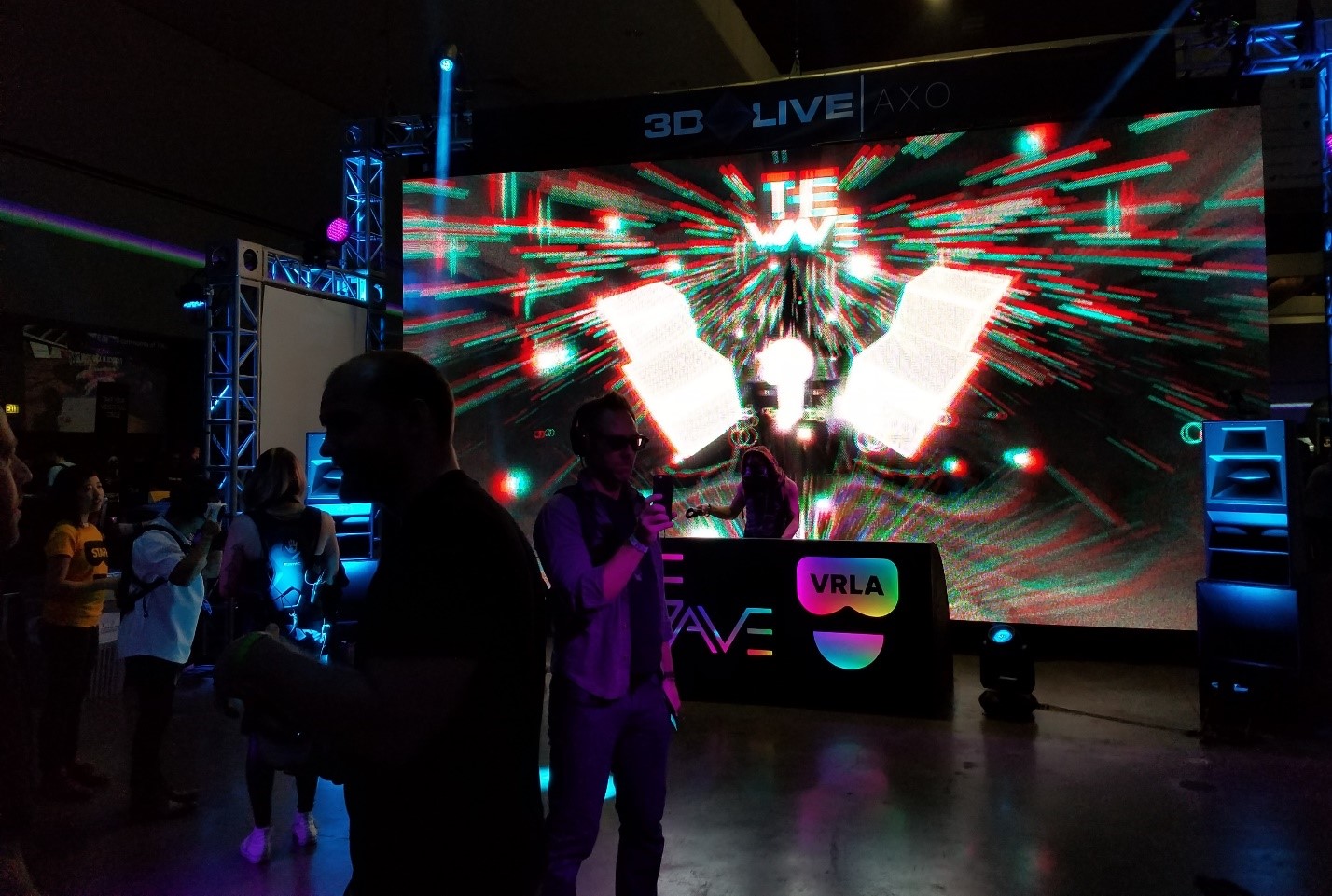 The excitement level, and the sheer joy of being in the moment of VR now exhibited by most of the mostly millennial's who attended the conference, was contagious and everyone had a "did you see" story to tell. This is how conference should be, not mega taxi-line busting, no room at the restaurant marathons, but amped up meetups, where attendees want to be. It was similar to the eclectic Campus Party in Mexico we attended a few weeks ago, or Laval Virtual  in France.
More VR shows are coming up. Partnered with the Ontario Science Centre, the Immersive Technology Alliance's Immersed Conference takes place October 16-18 in Toronto, and is planning for 8,000 to 15,000 visitors over three days plus their core professional event. Other upcoming events include On the lot in LA on 13 Oct and GDC's VR dev conference in SF in November. With all the VR events you never have to stay home again.